Atlas Technologies Announces the Completion of a Press Transfer System for a Major Tier One Supplier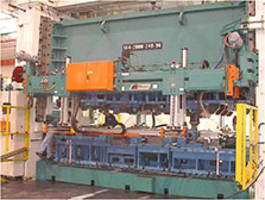 Fenton, MI - Atlas Technologies recently concluded the design and construction of a FLEX® Press Transfer 3000 System for Shiloh Industries', Dickson Tennessee facility. Atlas has been an automation partner of Shiloh's for twenty years, providing a variety of quality capital equipment systems to numerous Shiloh facilities. This project installation is on track to be incorporated into production in the third quarter of 2018.
The exclusive FLEX® Tri-Axis programmable press transfer design is engineered to Shiloh's specifications to operate in coordination with their existing 1000 ton 220" x 84" PTC press. The patented FLEX® 3000 Tri-Axis is fully programmable with independent electric servo drives for each axis of motion; "lift", "clamp", and "transfer". The system is capable of smoothly transferring up to 600 lb. maximum payload, while operating at the appropriate corresponding press speed. The FLEX® Transfer 3000 will assist Shiloh in achieving higher production rates, faster tooling changeover, and easier die accessibility.
"Atlas Technologies has been delivering "Innovation, Durability and Productivity" for the past 53 years! We are known for our robust innovative designs and equipment that service numerous industries. Our consistent and reliable quality products are the key to our successful history of servicing our valued customers, and the reason our customer relationships turn into partnerships!"
More from Architectural & Civil Engineering Products