Atlas Copco Compressed Air Systems Save Energy at BIC No Sabe Fallar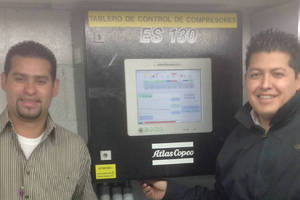 Wilrijk, Belgium — No Sabe Fallar, S.A. de C.V. is the Mexican subsidiary of the global BIC Group. Installed at its plant in Cuautitlán Izcalli area group of Atlas Copco GA-type compressors, an energy saving ES control system and an AirConnect Visualization system. Maintenance Manager Armando Guerra relates that, with these solutions and using its AIRScan survey tool, Atlas Copco helped the plant to achieve significant energy savings in the compressed air system.



At No Sabe Fallar compressed air is the main power source for assembly, injection molding and transportation machines, as well as screen printing and pad printing machines.



GA-type compressors

The plant has nine Atlas Copco GA-type oil-injected rotary screw compressors – two GA 315s, two GA 90s, two GA 90 VSDs and three GA 160s. The element and motors in GA compressors are designed reduce energy costs and overall compressor lifecycle costs.



The GA VSD (Variable Speed Drive) further reduces energy costs by automatically adjusting the air supply to demand with a large turndown operating range.



Central control system

No Sabe Fallar also has an Atlas Copco ES 130V central control system which provides monitoring and control of all compressors simultaneously, ensuring all units provide optimum performance for the process. The result is a dependable, energy efficient network.



An Atlas Copco AirConnect Visualization system makes it easy to monitor the system and identify any areas that can be improved. All information is at the user's fingertips, from installation status to trends and system performance.



AIRScan survey brought energy savings

Atlas Copco performed an AIRScan survey to optimize the system. AIRScan is an independent Atlas Copco survey and reporting tool that pinpoints the areas where potential savings can be made in a plant.



Guerra: "We needed reliable machinery of recognized brands that would ensure the continuity of our operations, and that is why we turned to Atlas Copco. Thanks to their support and their AIRScan tool, we have achieved average energy savings of up to 20% in the compressed air system."



Founded in 1945 by French industrialists Marcel Bich and Edouard Buffard, today BIC has sales in 160 countries and 3.2 million retail outlets sell BIC® products.



For further information please contact:

Michael Gaar

PR Coordinator

Telephone: +32 (0) 3 750 80 88

e-mail: Michael.gaar@be.atlascopco.com



Atlas Copco's Compressor Technique business area provides industrial compressors, gas and process compressors and expanders, air and gas treatment equipment and air management systems. It has a global service network and offers specialty rental services. Compressor Technique innovates for sustainable productivity in the manufacturing, oil and gas, and process industries. Principal product development and manufacturing units are located in Belgium, Germany, the United States, China and India.



Atlas Copco is an industrial group with world-leading positions in compressors, expanders and air treatment systems, construction and mining equipment, power tools and assembly systems. With innovative products and services, Atlas Copco delivers solutions for sustainable productivity. The company was founded in 1873, is based in Stockholm, Sweden, and has a global reach spanning more than 170 countries. In 2012, Atlas Copco had 39 800 employees and revenues of BSEK 90.5 (BEUR 10.5).



Learn more at www.atlascopco.com.





More from Software