ATCA 5-Slot Shelf suits high-density computing applications.
Press Release Summary: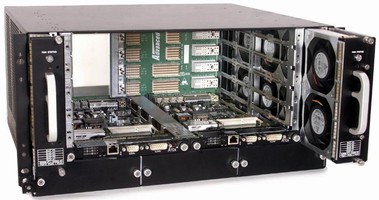 Compliant to NEBS (GR63) and PICMG 3.0 cooling requirements, Perform Series 5-slot AdvancedTCA shelf has fault-tolerant airflow design with two 38 mm fan trays featuring 8 fans each for supporting 300+ W per slot. HP-based software module offers seamless access to shelf control and management interface, and 10 Gbps backplane ensures signal integrity. Other features include intelligent sensor distribution, I/O alarms, as well as 3 redundant and hot-swappable, 1,500 W power supplies.
---
Original Press Release:

Asis Introduces AdvancedTCA 5-Slot Shelf for High-Density Computing Applications



Features Superior Cooling and Management Options

San Diego and Las Vegas - June 16, 2008 - Asis (www.asis-pro.com), a global designer and manufacturer of complete enclosure systems for AdvancedTCA, CompactPCI and custom applications, today announced the introduction of its new Perform Series 5-slot AdvancedTCA shelf that meets the space and cooling demands of today's dense computing environments. The new Asis-5 slot AdvancedTCA shelf exceeds the current available cooling on the market today.

With strict compliance to NEBS (GR63) and PICMG 3.0 cooling requirements, the Perform Series of products including the new 5-slot chassis features a fault-tolerant airflow design based on comprehensive thermal studies. Incorporating two 38mm fan trays with eight high performance fans each and patented air flow technology, the Perform 5-Slot shelf supports over 300 watts per slot of push-pull cooling to assure the highest-level of heat reduction. Asis' advanced cooling scheme enables customization of the air flow according to user's specific needs - allowing extreme high power dissipation from selected slots. For applications of more than 300 watts per slot, the Perform Series airflow can be easily customized to meet specific thermal requirements.

The development of the Perform Series is based on the accumulated knowledge and experience in the implementation of the AdvacedTCA standard. As with the other Perform Series models, this new shelf is based on Pigeon Point(TM) 500 shelf management module (ShMM) and features a unique HP-based software module, offering seamless access to the shelf control and management interface complete with intelligent sensor distribution and comprehensive I/O alarms.

The AC/DC 5-Slot Perform Series also features a 10gbps backplane that exceeds the AdvancedTCA standard while ensuring signal integrity. These enhanced capabilities are based on extensive practical experience and comprehensive Signal Integrity studies which led to the unique optimization of the backplane. In addition, the new shelf also incorporates three redundant and hot-swappable 1500 watt power supplies. For DC applications, the shelf also features hot-swappable and redundant -48VDC PEM.

These standard features together with exceeding MTBF and MTRR of the AdvancedTCA standard, makes the Perform Series 5-slot one of the most feature-rich shelves in its classification today. Available now, the NEBS ready RoHS compliant Perform Series 5-slot Shelf is designed to meet CE, UL, TUV, EMC, and FCC requirements. For more information on the Perform Series, call 858-880-3967 or visit www.asis-pro.com.

About Asis:
Asis is a global designer and manufacturer of complete enclosure systems for ATCA, CompactPCI, and custom applications. Actively involved in the formation of the ATCA standard since its inception in 2001, Asis has been chosen by Intel to co-develop the market's first ATCA chassis. Asis' goal is to lead the ATCA market by leveraging its expertise in high-speed interconnect and thermal modeling to develop ATCA products that exceed the standard in performance and availability.

By combining global design and manufacturing capabilities, Asis can offer unique flexibility and responsiveness to the client's specific needs. With this unique service-oriented approach, Asis is able to deliver the most complex projects in record time. Leading global manufacturers such as Lucent-Alcatel, ECI, Audio-Codes, Telco Systems and Polycom depend on Asis' system expertise.

More from Agricultural & Farming Products