Asynchronous SRAMs offer on-chip Error Correcting Code.
Press Release Summary: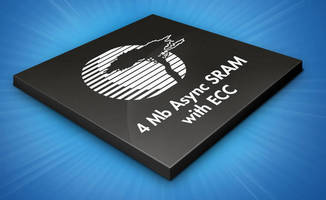 To maximize data reliability without additional error correction chips, 4 Mb asynchronous Static Random Access Memory (SRAM) integrates hardware Error-Correcting Code (ECC)Â that block performs all error correction functions inline, without user intervention, for Soft Error Rate (SER) performance of <0.1 FIT/Mb. Optional error indication signal indicates correction of single-bit errors. Other features include x8 and x16 configurations as well as Fast, MoBL, and Fast with PowerSnooze™ options.
---
Original Press Release:

Cypress Adds 4Mb Devices to Family of Asynchronous SRAMs with On-Chip Error-Correcting Code



4Mb SRAMs Improve Data Reliability a Thousandfold Over SRAMs without ECC, While Helping to Conserve Battery Life in Handheld Systems



SAN JOSE, Calif. – Cypress Semiconductor Corp. (NASDAQ: CY), the Static Random Access Memory (SRAM) market leader, today announced the sampling of 4Mb asynchronous SRAMs with Error-Correcting Code (ECC). The on-chip ECC feature of the new SRAMs enables them to provide the highest levels of data reliability, without the need for additional error correction chips—simplifying designs and reducing board space. The devices ensure data reliability in a wide variety of industrial, military, communication, data processing, medical, consumer and automotive applications.



Soft errors caused by background radiation can corrupt memory content, resulting in a loss of critical data. A hardware ECC block in Cypress's new asynchronous SRAM family performs all error correction functions inline, without user intervention, delivering best-in-class Soft Error Rate (SER) performance of less than 0.1 FIT/Mb (one FIT is equivalent to one error per billion hours of device operation). The new devices are pin-compatible with current asynchronous fast and low-power SRAMs, enabling customers to boost system reliability while retaining board layout. The 4Mb SRAMs also include an optional error indication signal that indicates the correction of single-bit errors.



"We have received an overwhelming response from customers on our 16Mb asynchronous SRAMs with ECC, the first devices of our SRAM with on-chip ECC family that we introduced last year," said Sunil Thamaran, senior director of the Asynchronous SRAM Business Unit at Cypress. "Adding a new density to this family broadens the applications that can benefit from our on-chip ECC technology. Cypress is committed to developing new SRAM technologies to better serve our customers, adding to our undisputed leadership in this market."



The Cypress 4Mb asynchronous SRAMs are available in three options—Fast, MoBL and Fast with PowerSnooze™—an additional power-saving Deep Sleep mode that achieves 15 uA (max) deep-sleep current for the 4Mb SRAM. Each of the options is offered in industry standard x8 and x16 configurations. The devices operate at multiple voltages (1.8V, 3V, and 5V) over -40°C to +85°C (Industrial) and -40°C to +125°C (Automotive-E) temperature ranges.



Availability

The new SRAMs are currently sampling in industrial temperature grade, with production expected in July 2015. These devices will be available in RoHS-compliant 32-pin SOIC, 32-pin TSOP II, 36-pin SOJ, 44-pin SOJ, 44-pin TSOP II and 48-ball VFBGA packages.



About Cypress SRAMs

Cypress holds the No. 1 global market share position in SRAMs—the only memories that deliver the performance, reliability, and long product lifecycles vital to the evolution of the Internet and mission-critical systems everywhere. Built on more than 30 years of experience and a strong IP portfolio, Cypress SRAMs offer the world's best speed and power performance and the highest reliability to meet the requirements of the most-demanding systems. Cypress is also the only vendor to offer products in every SRAM category, including synchronous and asynchronous, dual-port, and nonvolatile. Cypress SRAMs are widely used in networking, industrial, automotive, military/aerospace, and medical systems around the world, and the company is working with customers and partners to innovate new SRAM categories that address the performance demands of tomorrow's Internet and the Internet of Things.



Follow Cypress Online

• Join the Cypress Developer Community.

• Follow @CypressSemi on Twitter.

• Visit us on Facebook and LinkedIn.

• Watch Cypress videos on our Video Library or YouTube.



About Cypress

Cypress (NASDAQ: CY) delivers high-performance, high-quality solutions at the heart of today's most advanced embedded systems, from automotive, industrial and networking platforms to highly interactive consumer and mobile devices. With a broad, differentiated product portfolio that includes NOR flash memories, F-RAM™ and SRAM, Traveo™ microcontrollers, the industry's only PSoC® programmable system-on-chip solutions, analog and PMIC Power Management ICs, CapSense® capacitive touch-sensing controllers, and Wireless BLE Bluetooth® Low-Energy and USB connectivity solutions, Cypress is committed to providing its customers worldwide with consistent innovation, best-in-class support and exceptional system value. To learn more, go to www.cypress.com.



Cypress, the Cypress logo, PSoC and CapSense are registered trademarks and PowerSnooze, F-RAM and Traveo are trademarks of Cypress Semiconductor Corp. All other trademarks are property of their owners.

More from Cleaning Products & Equipment