Asset Maintenance Software is customizable to application.
Press Release Summary: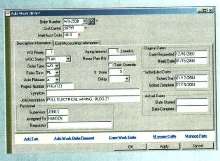 Offering Server Side Reports, eXegeSys Asset Maintenance (eAM) v6.5 also includes Web Project, which allows browser-based web access to application, and File Viewer Support, which lets users attach and view reference files directly in application. Built with proprietary Customizer(TM) technology based on eXsyst Anywhere(TM) development framework, software is adaptable for end-user customization and platform independence.
---
Original Press Release:

eXegeSys® Announces Release of Version 6.5 of the eXegeSys Asset Maintenance(TM) (eAM) Application


February 23, 2004, National Manufacturing Week, Chicago. As part of its continued investment in product development, eXegeSys today announced the release of version 6.5 of its eXegeSys Asset Maintenance (eAM) software application. The version enhances previous performance by adding:

o Server Side Reports that can be printed by the application server, based on completion of transactions.

o A new Web Project that can be used in conjunction with the eXsyst Anywhere(TM) Web Client to allow browser-based web access to the application.

o File Viewer Support that allows for the ability to attach reference files to an asset or object within eAM. In addition, it provides the ability to view reference files directly in the application.

In addition, with the release of this new version, several editions were created to support the needs of small to large businesses. The new editions will give customers a choice in consideration of their business requirements, size and budgets.

eAM is built with eXegeSys' proprietary Customizer(TM) technology based on the eXsyst Anywhere(TM) development framework, which allows adaptability for end-user customization and platform independence without compromising support and future upgrades of the application. Bruce James, Development Lead, states, " We are excited to roll this product out. It is exceptional because of the customizable and adaptable functionality provided by the eXsyst Anywhere(TM) platform. With this product we have fully embraced the next generation programming paradigm of creating adaptable software. This easy to use method adds benefit to the end-user by enabling changes to be implemented in the application to match unique business processes, all without interruption of support or costly upgrades. It is truly software that adapts to the business."

eXegeSys Asset Maintenance is a CMMS solution designed to decrease the cost of maintaining equipment by maximizing resources and to increase productivity to allow facilities to run at full capacity. With a proven, respected history eAM anticipates, plans and schedules tasks for discrete and process manufacturers, utility companies, higher education and hospital facilities around the world.

eAM is available for Windows and Linux operating systems, and supports IBM DB2 and Oracle databases.

About eXegeSys
eXegeSys is a global technology company offering a functionally rich suite of ERP applications, complemented by technologies that enable true customization without altering source code. Based upon technology originally developed by Hewlett Packard, the eXegeSys Resource Planning (eRP) suite includes financial management, supply chain management, manufacturing management and asset maintenance applications.

eXegeSys also offers a development architecture and tool set called eXsyst Anywhere(TM). eXsyst Anywhere(TM) allows developers to build applications that encourage end user customizations and modifications but never require changes to the source code. Used to build eXegeSys' own software, this revolutionary development environment is now offered as a stand-alone product.

All eXegeSys applications can be adapted to your unique business processes using our Customizer(TM) technology. This technology enables customization, even at the program level, without altering the source code, thus never compromising long-term support.

With offices and/or partners in eight countries, eXegeSys supports customers in ten languages and fifteen countries. Our solutions enable customers in industries such as manufacturing, utilities, education, aerospace and more, to accurately determine capacity, increase productivity, optimize asset use, and improve the bottom line.

For more information about eXegeSys, eXsyst Anywhere(TM), our Customizer(TM) technology or our migration strategies and services for the HP e3000, please call 877.eXegeSys (393.4379), email info@exegesys.com, or visit our web page at www.exegesys.com

More from Explosives, Armaments, and Weaponry