Assembly Systems offer load capacities to 10,000 lb.
Press Release Summary: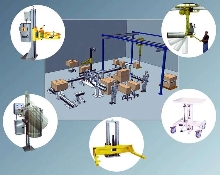 Suited for low to moderate production volumes, Lean Manufacturing Assembly Systems manufacture products, parts, and components requiring worker interface and high level of assembly and/or transfer. Systems can incorporate standard, modified, and custom-designed manipulators, work positioners, lift and transfer tables, and workbenches, with rails and overhead cranes. They help eliminate wasted motion and lifting done by workers, and minimize space needed for assembly.
---
Original Press Release:

Unidex Introduces Integrated Lean Manufacturing Assembly Systems for Low-to-Moderate Production Volume with Load Capacities up to 10,000 lbs.


Animated demonstration video available on CD-ROM and on newly revised website.

(APRIL 2005) - Citing the growing trend of companies implementing the principles of lean manufacturing, Unidex, Inc., Warsaw, New York announces the launching of its integrated Lean Manufacturing Assembly Systems. Unidex will provide material handling consultation, systems integration design, and equipment manufacture of Lean Manufacturing Assembly Systems for companies seeking to improve operations, boost productivity and reduce workplace injuries. Unidex systems are designed for low-to-moderate production volumes with load capacities of up to 10,000 lbs. Initial systems have been field-tested and performance-proved with existing Unidex customers, according to the company. In addition, the newly revised Unidex website features an animated video demonstrating a Unidex Lean Manufacturing Assembly System. The video is also available on CD-ROM from Unidex.

A Unidex Lean Manufacturing Assembly System is designed for the manufacture of a product, part or component requiring worker interface and a high level of assembly and/or transfer, according to Unidex. Since Unidex offers a comprehensive line of ergonomic material handling equipment, it can incorporate standard, modified and custom-designed manipulators, work positioners, lift and transfer tables, workbenches and other products with rails, overhead cranes and other elements into a Lean Manufacturing Assembly System. Operational goals and features of a Unidex system include the elimination of wasted motion, reduction or elimination of lifting done by workers, decrease in floor space needed for the assembly operation, and the introduction of greater flexibility and accessibility when working with heavier loads, the company states.

"Although our Lean Manufacturing Assembly Systems is a new service, it is an outgrowth of what we have been providing customers on an individual basis for the past few years," said Art Crater, President of Unidex. He noted that Unidex recently completed a Lean Manufacturing Assembly System that resulted in the customer increasing the number of units produced in one day from 8 to 26 while realizing savings in resources such as inventory, floor space, and manpower.

According to Unidex, there are many manufacturing and assembly operations that combine heavy loads with worker interface such as aircraft engines, HVAC units, recreational vehicles, large pumps, construction equipment, off-road vehicles, furniture, appliances, hospital and medical equipment, tanks, fork trucks and other products, parts, or components.

For free literature and additional information regarding Unidex Lean Manufacturing Assembly Systems, contact Unidex, Inc., 2416 Main Street, Warsaw, NY 14569. Phone: 585-786-3170. Fax: 585-786-3223. Toll-Free: 1-800-724-1302. E-Mail: sales@unidex-inc.com. Website: www.Unidex-Inc.com. For more specific information and to view the animated video of a typical Unidex system, visit Unidex-Inc.com/lean.htm.

Please address reader service inquiries at the above address to:
Don Cunningham, General Manager, Unidex, Inc.
(dcunningham@unidex-inc.com)

More from Material Handling & Storage