Assembly Sealant offers instant adhesion.
Press Release Summary: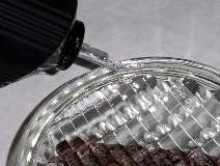 Reactive hot-melt silicone, HM-2500 cures to flexible, weather-resistant silicone seal with UV resistance. It adheres to PVC, aluminum, painted and treated wood, paints, and plastics. High viscosity at room temperature resists flow of material, minimizing sealant squeeze out and clean up. Moisture curing, 100% silicone product is optimized for use with automated dispensing equipment, which creates uniform seal for part-to-part consistency.
---
Original Press Release:
Revolutionary Sealant Technology Combines Silicone Performance, Hot-Melt Productivity

Instant Green Strength Eliminates Hold Time, Boosts Throughput, Reduces Space Requirements, Increases Productivity

MIDLAND, Mich. - March 7, 2005 - New, exclusive sealant technology from Dow Corning Corporation combines the production benefits of instant adhesion with the performance benefits of silicone elastomers to increase productivity, improve quality and reduce costs in industrial assembly applications.

A patented reactive hot-melt silicone, Dow Corning(r) HM-2500 Assembly Sealant provides as much immediate adhesion as double-sided pressure sensitive adhesive tape, then cures to a flexible, weather-resistant silicone seal with outstanding durability and ultraviolet resistance.

"Assembly lines often get bottlenecked just waiting for sealants to cure," said Ross Noel, senior application engineer, technical service, Dow Corning. "HM-2500 provides immediate hold so you can move parts from one processing step to the next without delays and ship them as fast as you can make them."

Dow Corning HM-2500 provides long-lasting adhesion to PVC, aluminum, painted and treated wood, high-performance paints, plastics and various substrates. It is compatible with most common component materials without the need of a primer. Long open time, pot life and moderate application temperature (250°F [121°C]) offer a user-friendly application. High viscosity at room temperature resists flow of material reducing sealant squeeze out and clean up.

The moisture curing, 100 percent silicone HM-2500 is optimized for use with automated dispensing equipment, which creates a uniform seal for part-to-part consistency, minimizes sealant waste and cleanup, and can reduce labor costs substantially.

Pre-engineered pump and robotic equipment combinations are available through Dow Corning preferred equipment suppliers.

For more information about Dow Corning's complete line of high-performance industrial sealants, contact www.dowcorning.com , or e-mail http://industrial@dowcorning.com
More from Packaging Products & Equipment