Aspheric Grinding System offers 100 mm dia swing capacity.
Press Release Summary: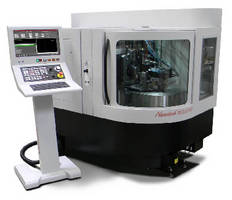 Available in XZ or XZB configurations, Nanotech 100UPG is designed for grinding tungsten carbide and silicon carbide aspheric optical mold inserts. System can also serve as ultra-precision diamond turning system with 250 mm diameter capacity. Main work spindle consists of 10,000 rpm groove-compensated air bearing design, while air bearing grinding spindle has speed range of 5,000-45,000 rpm with less than 50 nm of radial and axial runout. Both spindles benefit from total liquid cooling.
---
Original Press Release:

Ultra-Precision Aspheric Grinding System Simplifies Optical Productivity



The Nanotech 100UPG brings a new generation of accuracy, productivity, and simplicity in ultra-precision aspheric grinding. The system is available in either a XZ or XZB configuration. Although its primary application is the grinding of Tungsten Carbide and Silicon Carbide aspheric optical mold inserts used in glass press molding or the grinding of glass lenses directly, it also provides a 250mm diameter capacity for diamond turning applications.



Swanzey, NH — Moore Nanotechnology Systems, LLC, a global supplier of ultra-precision machining systems, introduces the all new Nanotech 100UPG Ultra-Precision Aspheric Grinder at SPIE Optifab in Rochester, NY the week of October 14th, 2013.



Nanotech has continued its history of setting new industry standards in the ultra-precision machining systems field with their latest innovation. The Nanotech 100UPG is the most technically advanced aspheric grinder available, with a great emphasis having been placed on making operation of this system easy and intuitive. Whether the application is Tungsten Carbide / Silicon Carbide precision optical mold inserts or aspheric glass lenses, this total flood coolant containment design has been engineered to add value to the process in terms of both efficiency and performance. Available in either XZ or XZB configurations, the machine offers a 100mm diameter swing capacity for optical grinding. It can also serve as an ultra-precision diamond turning system with a 250mm diameter capacity.



"One of the shortcomings with more traditional ultra-precision machining/grinding systems has been in offering customers the complete manufacturing solution. When we started this development project our goal was to not only design a superior grinding platform with state-of-the-art mechanics and control, but to also design and implement the tools and devices required for turnkey manufacturing. This included such features as in-situ automated wheel dressing and probing, in-situ metrology and correction, process monitoring with vision techniques, as well as touch probing for dimensional control. Our goal was to incorporate all this into a single system. I am pleased to say that our team here at MNTS has not only met this challenge, but they exceeded our expectations," notes Tom Dupell, Vice President & Chief Operating Officer for Nanotech.



The 100UPG has been developed with many new precision engineered components and features. These include high stiffness thermally controlled hydrostatic oil bearing slide ways, a compact utilities cabinet with integrated hydraulic and pneumatic systems, on-machine CNC controlled wheel dressing and metrology measurement, and a new control system. The main work spindle consists of an exclusive 10,000 rpm heavy-duty groove compensated air bearing design while the air bearing grinding spindle has a speed range of 5,000-45,000 rpm with less than 50 nanometers of radial and axial runout throughout its entire range. Both spindles benefit from total liquid cooling for long term thermal stability. Due to the high overall loop stiffness and exceptional quality and technical performance of all major components used on the Nanotech 100UPG, this equipment has been optimized to provide superb grinding performance. The optional Heavy Duty Oil Hydrostatic B-axis allows simple expansion of the basic two axis system to 3 axes of continuous path motion. The machine's enclosure has been engineered for total flood containment with a smooth gliding curved door enabling easy and complete access to the work area for production loading/unloading and quick machine cleanup. Either temperature controlled or non-temperature controlled flood coolant delivery systems are available.



This system also features Nanotech's New PowerNC™ Windows 7 based HMI Controller with superior processing speed over previous control systems in the ultra-precision industry. This combined with the industry's first touch / swipe gesture interactive 22" wide screen display brings a simplicity and functionality unlike anything else while assuring high productivity and reliability.



"We set out to develop a control that supports our highly demanding range of applications and, at the same time, is easy to use. The result is an intuitive HMI coupled to a very high performing control system like no other in the industry," notes Pat Hurst, Vice President of Engineering for Nanotech.



Moore Nanotechnology Systems, LLC is a global supplier of ultra-precision machining systems for single point diamond turning, micro-milling, micro-grinding, and glass press molding. With machine installations in 28 different countries, Nanotech's 2 - 5 axes symmetric and freeform optical machining systems offer the flexibility and reliability to cover R&D or production needs in a broad range of current and emerging markets. All systems achieve nanometer level surface finishes directly off the machine, most often eliminating the need for secondary post-polishing operations, while at the same time maintain sub-micron form accuracies. There are ultra-precision systems and then there are Nanotech ultra-precision machining solutions.



For more information visit our website: www.nanotechsys.com