ASC 22 Straight Grinder offers 22,000 rpm rotation speed.
Press Release Summary: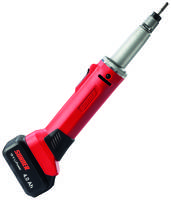 Suitable in locksmiths, caretaking, maintenance sectors, fire and emergency services, ASC 22 Straight Grinder is powered by Li-Ion battery. Using chucks ranging between 6 mm and ¼ inch, unit operates on 18 V voltage and features 4.0 Ah power pack battery. Designed with detachable particle guard, unit protects electric motor from dust. Weighing 1.9 kg, unit comes with shock-absorbent rubber jacket battery pack.
---
Original Press Release:
The New ASC 22 Battery-Operated Straight Grinder
High performance – mobile and unattached!
Power is not always available where you need it for tough-to-reach areas that need sanding, milling and drilling. For applications such as these, SUHNER now presents its battery-operated straight Die-grinder. With a rotation speed of 22,000 rpm, the ASC provides the user with a hand-held, mobile, high-performance Tool. This tool, which can be used around the World, is a great all-rounder that performs at all professional levels.
This new cordless tool is Li-Ion Battery powered and offers all the right settings for power tool work on high-grade projects in all types of steel.
It is also great for other sectors where these qualities are needed, such as the fire services, emergency services, or for locksmiths, caretaking and maintenance.
The ASC 22 is reliable and gets the work done rapidly, all without being attached to a power supply!
The ASC 22 is not only highly effective, it is also silent.
For demanding users
This all-rounder is the right tool for anyone that wants to achieve precise, high-quality results. The ASC 22 is the best choice for grinding with formed abrasives, for milling with carbide cutters and for drilling with normal or carbide drills. It is lightweight at just 1.9 kg, including its battery pack. Its ergonomic and well-balanced shape enables you to carry out very detailed work without becoming tired. With a slimline neck, it can also reach narrow areas easily.
Globally compatible
The machine has a chuck system that ensures quiet running with minimised vibrations. The user can choose between chucks of 6mm (mainly used in Europe) and 1/4" (for the USA and overseas markets). We provide four different connector cables so that the battery can be charged from almost any internationally used plug socket.
High performance battery technology
The powerful electric motor from the latest generation are driven by high-performance lithium-ion batteries, which are the best option because of their high output, low self-discharge and the fact that they have no memory effect. This means that charging your battery is problem-free every time. The powerful battery packs have a 4.0 Ah charge capacity and work on a voltage of 18 V.
Sophisticated system
Intelligent battery management ensures that all the components work together perfectly and that the available power is used optimally. In this process, the temperature of the battery and machine are continuously monitored so that overheating or overloading of the device is effectively prevented.
The electric motor is protected from coarse dust by a detachable particle guard.
The battery packs are housed in a shock-absorbent rubber jacket.
Practical set
The ASC 22 comes as a set consisting of the machine, two battery packs and a charger with four different connector cables in a practical, durable plastic case.
We are happy to provide you with further information upon request.
SUHNER Industrial Products, LLC 
43 Anderson Road SW
P.O. Box 1234 
Rome, GA 30161
Phone 706/235-8046 
Fax 706/235-8045 
www.suhner-abrasive-expert.com
More from Software