Artist Uses Peifer WaterJet for Precision WaterJet Cutting Services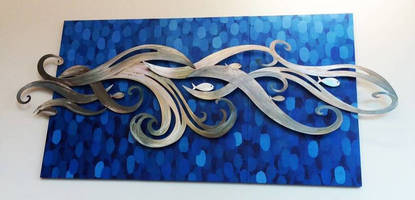 Three years ago when his waterjet cutter went out of business, artist Christopher Erney contacted Peifer Waterjet. Since then, Erney and Peifer Waterjet have worked together to create many art pieces for public spaces and private homes. Many of the pieces have an 'under the sea' theme, including this rolling wave piece installed at the Holy Cross Hospital. Ernie creates the drawings for his artwork in Adobe Illustrator then exports them as a CAD file (dxf or dwg). Since the files are not native CAD files, the arcs and circle are converted to line segments creating jagged edges. Using our CAD software's edge fix feature, we can smooth out the lines for a nice, clean edge. Even though there's an added cost for this service, the result is a work of art.



About Us:



In 1965, Peifer Welding was formed, specializing in residential ornamental railing, porch columns, gates, and spiral stairways. In 1972, the company was incorporated and is now operated by the founder's son Craig Peifer, and son-in-law James Keener.



Peifer is dedicated to an outstanding quality of work consisting mostly of commercial construction including railings, stair towers, small structural steel, and miscellaneous fabrication in steel, aluminum, and stainless steel. PWI also provides water jet cutting services featuring a Hydra Jet cutting system. We utilize an abrasive waterjet cutting system to provide precise and efficient cutting of metal and non-metallic materials. We can cut large components, small precision parts and prototypes with exceptional edge quality within a +/- 0.005 in. accuracy.  Materials cut include Acrylic, metals, alloys, ceramics, foams, glass, plastics, rubber, wood, and many more materials.



For more information call 717-687-7581, email mail@peiferwelding.com or visit our website www.peiferwelding.com.





More from Architectural & Civil Engineering Products