Articulating Manipulator includes coil lifter gripper.
Press Release Summary: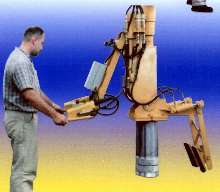 Articularm features expandable ram that grips coil internally and outside gripper attachment to prevent coil from telescoping when lifted. It has 360° powered rotation and can reach 120 in. radius covering 20 ft circle. Forearm swings 270° and can be powered or manually operated. Wrist that holds tool has 360° rotation to point load in any direction. Hydraulically-actuated manipulator can lift up to 2,000 lb from ground level to 8 ft in height.
---
Original Press Release:
Fully Powered Articularm with New Coil Lifter Gripper

Air Technical Industries of Mentor, Ohio announces the development of the Articularm fully articulating manipulator with new expandable ram and outside gripper attachment for handling rolls and coils of material.

The expandable ram grips the coil internally and outside gripper externally to prevent the coil from telescoping when lifted, making a big mess. Once the coil is lifted vertically the Articularm pitch axis rotates the coil to the horizontal position.

The mast of the Articularm has 360° powered rotation and it can reach 120" radius covering a 20' circle. The forearm swings 270° and it can also be powered or manually operated. The wrist that holds the tool has 360° rotation to point the load in any direction desired.

The lifting is hydraulically actuated and the unit is capable of lifting from ground level to 8' in height. Capacity is 2000lbs, smaller units are available. The power source can be 110V AC, 220-440V 3-phase, or air powered for hazardous duty operations.

There are many other attachments available such as grippers, vacuum cups, magnets, lifting forks, and many special custom-made attachments for unique applications.

The fully powered Articularm can perform robot-like operation at a much lower cost than any other industrial robot. The unit will improve performance in handling a great variety of unusual tasks taking the load off the operators back, making the job easier, safer, and more ergonomic.

Fore more information, please contact:

Air Technical Industries

7501 Clover Ave.

Mentor, OH 44060

Ph. 440-951-5191

Fx. 440-953-9237

Ati@airtechnical.com

http://www.airtechnical.com
More from Transportation Industry Products