Ardagh Group Works with Stabburet Brand on Ambitious Seafood Can Project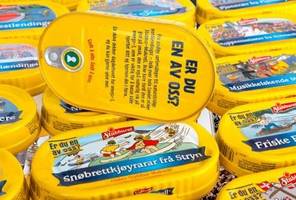 "Are you one of us"?
The importance of a lightweight and fully recyclable aluminium can to contain nutritious seafood has long been accepted, but a recent collaboration in Norway between leading can producer Ardagh Group and major seafood brand Stabburet shows how the versatile package can also become a design icon.
This major project for Stabburet's mackerel filet, a national dish in Norway, has seen sixty different designs presented on the "Hansa" shaped seafood can. Each design, some of which use cartoons and are all linked by the brand's recognisable yellow background, represents a different town or place, an aspect of people's behaviour or way of life in Norway,
To bring this ambitious project to a successful conclusion, Ardagh's metal packaging plant in Cuxhaven in north Germany, which handled all aspects of the print and production of the cans, worked in close cooperation with Stabburet to ensure that all 60 designs were delivered as specified.
The base of the can contains the catching phrase: "Er du en av oss?" (Are you one of us?) explaining the relevance of the picture on the lid and the pull ring shows the green Nordic "keyhole" food symbol.
Birte Hjorth, Product Group Manager at Orkla Foods Norge explains: "Mackerel filet in tomato is an important part of the Norwegian everyday diet and we wanted to honor all the loyal consumers throughout the country. We therefore created a series of on-pack designs; each design representing a way of living or a typical local feature from a different town or place in Norway. The campaign has been very well received and engaged consumers all over the country."
Patrick Savouré, Commercial Director Seafood at Ardagh Group's metal division, adds, "the lightweight aluminium can offers a perfect branding surface for this striking design and together with the excellent functionality, this is a winning combination."