Architectural LED Floodlight uses only 12 W of power.
Press Release Summary: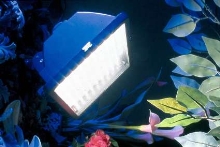 GardenLED(TM) Series GDL002 FloodLED(TM) features 198 warm white 5 mm discrete LEDs mounted on PCB. Unit provides ample light without generating light pollution, radiating excessive heat, or consuming large amounts of energy. Solid-state design renders LEDs impervious to electrical and mechanical shocks, vibrations, frequent switching, and environmental extremes. Requiring 12 Vdc, unit is suited for lighting walkways, small signs, landscaping, and building exits.
---
Original Press Release:

Architectural and Landscape LED Floodlight Uses Only 12 Watts of Power


TORRANCE, CA -August 30, 2004 - LEDtronics expands it offerings of LED-sourced outdoor lighting products: The GardenLED(TM) Series GDL002 FloodLED(TM). The Series GDL002 FloodLED features 198 warm white (3000K) 5mm discrete LEDs mounted on a printed circuit board, a rugged metallic housing and sturdy base that all add up to a practically unbreakable and long-lasting light source. The GDL002 is an environmentally friendly approach to outdoor lighting that provides ample light without generating light pollution, radiating excessive heat or consuming large amounts of energy that accompany the operation of an incandescent light. Requiring just 12V DC, this floodlight is the ideal illuminator to accompany solar-powered systems and other alternative power-generating systems. Other voltages and LED colors are available as options pending factory approval.

The GLD002 light housing measures 8.875"L x 3.25"W x 7.25"H (225Lmm x 83Wmm x 184Hmm). Its compact size makes it easy to conceal among shrubs or under stairways. Also, this versatile light can be installed on walls, upside-down or upright, to bathe surfaces in light. The head of the fixture can be adjusted vertically to optimize the direction of the emitted light. Use the GDL002 FloodLED to light walkways, small signs, landscaping, building exits, walls, pictures, etc... Landscape architects, groundskeepers, casinos, amusement park lighting designers, building superintendents, facility management and environmentally aware consumers will find the GDL002 to be an excellent, efficient and extraordinary long lasting illuminator for a variety of applications as well as an ideal replacement for a short-lived, energy-hungry incandescent light.

The Series GDL002 FIoodLED complies with the worldwide Dark Skies initiative by eliminating the unwanted glare, light trespass, energy waste and sky glow that accompany traditional incandescent lamps. An estimated 30% of outdoor light generated in the U.S. goes into space, flooding the skies and creating electric haze that reduces stargazing. LEDs shine light in the direction where it is needed, reducing the amount of light lost to the sky and improving overall nighttime viewing.

Solid-state design renders LEDs impervious to electrical and mechanical shocks, vibrations, frequent switchings and environmental extremes. LEDs last for an average of 100,000 hours. That's over 10 years! Multiply the savings by the number of landscape lighting units installed and the savings is significant. Lamps perform well in applications subjected to voltage dips or surges. Integrated current-limited resistors and polarity-protection diodes assure that no circuit modifications are required. Additionally, with the use of multiple LEDs, an LED lamp continues to provide light even if one or more emitters fail unlike when the filament breaks in an incandescent bulb. LED lamps use only 10% - 20% of the energy consumed by equivalent incandescent lamps that when combined with their maintenance-free operation results in substantial cost savings.

Founded in 1983, LEDtronics® leads where others only follow when it comes to designing, manufacturing and packaging state-of-the-art LEDs to meet the world's constantly changing lighting needs. Our inventive product line encompasses an array of direct incandescent lamp replacement Based LEDs, low-cost snap-in and relampable Panel Mount LEDs, high intensity sunlight-visible Discrete LEDs, PCB LED circuit board status indicators, surface mount diodes SMT LED, fiiil-spectrum rainbow RGB LEDs and Infra-Red (IR) LEDs.

The GardenLED Series GDL002 FIoodLED is priced at $198.00 each. Availability is stock to 4 - 6 weeks for special requirements. For additional information on incorporating LEDs into your designs, contact LEDtronics toll free at 1-800-579-4875, telephone 310-534-1505, fax at 310-534-1424, e-mail webmaster@ledtronics.com or mail at LEDtronics Inc., 23105 Kashiwa Court, Torrance, CA 90505. Visit our website at ledtronics.com. Ask for datasheet (log #104). The URL address is as follows:
https://ledtronics.com/ds/GDL002-200/

More from Agricultural & Farming Products