Arbitrary/Function Generator targets education labs.
Press Release Summary: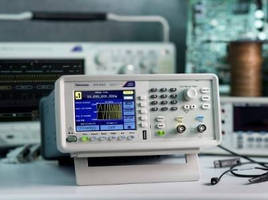 Integrating with TekSmartLab™ wireless lab management solution, dual-channel Model AFG1022 features 25 MHz bandwidth with 1 mVpp to 10 Vpp output, 14-bit vertical resolution, and 1 µHz frequency resolution. Unit provides 125 MS/s sampling rate along with 64 MB of built-in non-volatile memory and USB memory expansion for user-defined waveforms. On functionality side, instrument offers 50 built-in standard function and arbitrary waveforms with continuous, modulation, sweep, and burst modes.
---
Original Press Release:

Tektronix Introduces Affordable Arbitrary/Function Generator for Education, Entry-Level Test



New AFG1022 Features Industry Leading Price-Performance, Integrates with TekSmartLab Wireless Lab Management Solution



BEAVERTON, Ore. -- Tektronix, Inc., a leading worldwide provider of test, measurement and monitoring instrumentation, has introduced the entry level AFG1022 Arbitrary/Function Generator featuring best-in-class performance and functionality to support a wide range of use cases and course subjects. The AFG1022 integrates seamlessly with the new TekSmartLab(TM) wireless lab instrument management solution.



As electronic systems continue to increase in speed and complexity, colleges and universities globally are looking to outfit labs with modern test instrumentation to better prepare students for the real world. With the addition of the AFG1022, Tektronix now offers educational institutions the industry's most complete set of affordable instruments including oscilloscopes, signal generators, digital multi-meters and power supplies, all tied together with TekSmartLab(TM).



"Tektronix strongly believes that a rich hands-on experience dramatically improves education outcomes," said Michael Ewald, General Manager, Bench Products, Tektronix. "That's why we are working hard to meet the needs of colleges and universities including superior price-performance on instrumentation, integrated courseware and ease of administration. We are the one-stop-shop for basic education test solutions."



Full-featured AFG

Compared to scope-based signal generators or stand alone AFGs in its price class, the AFG1022 offers better performance and greater flexibility. Key performance specifications include dual-channel, 25MHz bandwidth with 1mVpp to 10Vpp output, 14-bit vertical resolution and 1µHz frequency resolution. It provides a 125 MS/s sample rate along with 64 MB of built-in non-volatile memory and USB memory expansion for user-defined waveforms.



On the functionality side, the instrument offers 50 built-in standard function and arbitrary waveforms with continuous, modulation, sweep and burst modes to cover almost all the test requirements found in basic education labs. A built-in 200 MHz counter with 6-digit resolution offers an easy and precise way of performing frequency, period, pulse width, and duty cycle measurements.



To maximize learning, the AFG1022 incorporates an intuitive user interface with a 3.95-in TFT color display, shortcut buttons and rotary knob for quick setting adjustments. Its compact form factor saves valuable bench space.



Pricing & Availability

The AFG1022 is available now for orders worldwide with delivery beginning in March 2015. Price is $715 US MSRP.



Wondering what else Tektronix is up to? Check out the Tektronix Bandwidth Banter blog and stay up to date on the latest news from Tektronix on Twitter and Facebook.



About Tektronix

For more than sixty-five years, engineers have turned to Tektronix for test, measurement and monitoring solutions to solve design challenges, improve productivity and dramatically reduce time to market. Tektronix is a leading supplier of test equipment for engineers focused on electronic design, manufacturing, and advanced technology development. Headquartered in Beaverton, Oregon, Tektronix serves customers worldwide and offers award-winning service and support. Stay on the leading edge at www.tektronix.com.



Tektronix is a registered trademark of Tektronix, Inc. All other trade names referenced are the service marks, trademarks or registered trademarks of their respective companies.



CONTACT:

Amy Higgins

PR Manager

Tektronix

ahiggins@tektronix.com

503.627.6497

Related