AR's SilberBoard features front and back print option.
Press Release Summary: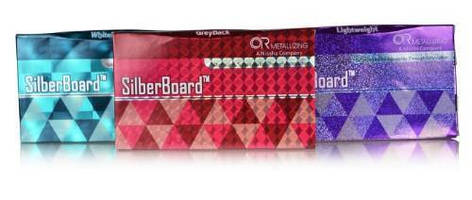 With zero imprint on the environment, and as an alternative to metallized PET board, metallic finish SilberBoard is compostable and eliminating the need for plastic films. Used in packaging a variety of goods like beverage, food, personal care and laundry care products, paperboards comes with uncoated backside and can be recycled. Types include Whiteback, Greyback, Lightweight and Carrier.
---
Original Press Release:
AR Metallizing Introduces SilberBoard™, a Compostable Board Alternative to Packaging
Your packaging has to be great, both in look and performance. That means it has to stand apart on shelves and perform well, with ideally minimum impact on the environment. AR Metallizing's SilberBoard offers a way to achieve a distinctive metallic finish on the packaging of your products with a compostable alternative to metallized PET board.

The environment plays a more important role than ever before in how consumers think about packaging, its design and the materials selected. SilberBoard from AR Metallizing is a responsible choice for packaging today.

SilberBoard is a metallized paperboard and a fully sustainable alternative to the commonly used multilayer composite board comprising metallized polyester. SilberBoard has a distinctive eye-catching brilliant, metallic finish and outstanding technical capabilities. As a result, SilberBoard enables premium brands to maintain their trusted look eliminating plastic films and providing an environmental compostable package.

Media attention for plastic pollution affecting lands, waterways, oceans and wildlife has led to increased consumers' awareness of the impact of plastics on the environment. This is evident in current market trends as consumers' favor environmentally friendly packaging. At the same time, packaging needs to look good, reflect brand values and remain functional. For these reasons AR Metallizing has developed SilberBoard.

SilberBoard meets the requirements for a wide variety of consumer-packaged goods like beverage, food, personal care and laundry care products. Five different types of SilberBoard have been developed:

• SilberBoard UltraShine enables premium brands in cosmetics, food and FMCG to launch successful premium strategies with a high gloss packaging solution.
• SilberBoard WhiteBack has been developed to optimize FMCG, over-the-counter, personal care and food industries' branding facilities. Due to a printable backside, this has extensive design and marketing possibilities
• SilberBoard GreyBack drives consumer engagement cost efficiently. This recycled board with an uncoated backside has been especially developed for the FMCG industry.
• SilberBoard LightWeight is the greenest, premium packaging solution for lighweight folding boxes. It has been developed for the food, FMCG and over-the-counter industries.
• SilberBoard Carrier carries premium food and beverages brands to the next level. It enhances shelf appeal and sets brands apart from competition on busy store shelves.

Curious to find out how your brand looks and feels when it is packaged with SilberBoard? Contact Wendy Cross, National Accounts Manager to have a free mock-up SilberBoard sample of your brand.WebSite: http://www.armetallizing.com/.
More from Agricultural & Farming Products