Aqueous Parts Washer provides continuous cleaning.
Press Release Summary: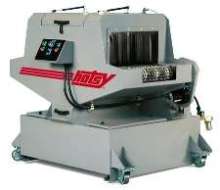 Single-stage, pass-through parts washer, Model 8600, features 16 in. wide steel conveyor belt that moves at speeds to 8 fpm, carrying parts through wash tunnel where they are blasted with hot water spray from 360° spray manifold. Water is heated by three 9 kW tubular heating elements to temperatures up to 140°F. Five horsepower vertical seal-less pump delivers 110 gpm at 40-50 psi. Electrical configurations include 230, 460, and 575 V, all 3-phase.
---
Original Press Release:

Hotsy Introduces New Single-Stage, Conveyor Aqueous Parts Washer


Hotsy, a leading manufacturer of automatic aqueous parts washers, has introduced a new single-stage, conveyor parts washer ideal for continuous cleaning of parts on an assembly line.

The Hotsy 8600 pass-through parts washer features a 16-inch wide steel conveyor belt that carries the parts through a wash tunnel where parts are blasted with hot water spray from a 360° spray manifold. The conveyor belt, made of 1-by-1 inch flat wire mesh, can be adjusted to move at a speed of up to 8 feet per minute. (A torque limiter prevents damage if the belt should become jammed.) Parts are always within 10 inches of the spray nozzles for cleaning impact.

Water is heated by three 9 kW tubular heating elements to a temperature of up to 140°F. Models come in three different electrical configurations-230V, 460V and 575V, all 3-phase-as well as a deluxe version with all wetted surfaces made of stainless steel.

Most comparable pass-through parts washers offer a less powerful 3 HP pump. The Hotsy 8600 5 HP vertical seal-less pump, with a high tolerance for metals and other solids in the wash water, delivers cleaning power of up to 110 GPM at 40-50 PSI. Hotsy also maintains an entire line of detergents formulated to enhance the cleaning capability of aqueous parts washers.

The Hotsy 8600 is ETL safety certified and has an automatic water fill system for protection against low water levels in the wash tank.

Other features of the Hotsy conveyor parts washer include:
o Locking casters for portability within the shop or factory;
o 12-inch stainless steel disc oil skimmer;
o Removable debris tray with a 20-mesh screen to prevent pump damage from large particles;
o Y-strainer in the plumbing eliminates debris from clogging the nozzles in the spray manifold;
o Top lid which provides convenient access to the wash tunnel that automatically shuts down the machine if opened during operation;
o Convenient push button start/stop, analog conveyor speed control and temperature control;
o Fused lock out with main electrical disconnect in a water-tight box on rear of equipment for operator protection;
o Sloped tank and capped pipe for easy removal of dirty wash water.

Certain features including the automatic water fill system, the oil skimmer, the y-strainer and the torque limiter are standard on the Hotsy 8600. These options are considered extras on the majority of parts washers.

Hotsy, with an extensive line of top- and front-load automatic aqueous parts washers, has manufactured equipment for over 30 years. The Hotsy brand is supported by a network of trained distributors throughout the U.S. and Canada. For more information, please contact Crismon Lewis at 877-283-2412, Ext. 175.

Contact:
Crismon Lewis (crismon.lewis@cudausa.com)
C-Tech Industries
4275 N.W. Pacific Rim Blvd.
Camas, WA 98607
877-283-2412, Ext. 175

More from Mounting & Attaching Products