AQIS-Approved Air Curtains offer simplified maintenance.
Press Release Summary: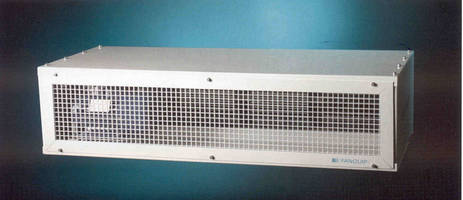 Air Curtain Model 13-15123 features heavy duty, centrifugal configuration and 6 screws for removal of fascia to gain access to internal mechanics for cleaning and maintenance. Unit exceeds AQIS requirements for air speeds of 8 m/sec at 900 mm above floor on doorways covered by air curtains. Also featuring IP56 moisture protection, it offers long lifespan in humid and damp conditions or in steam-process environments. Product has galvanised construction with option for food-grade stainless steel.
---
Original Press Release:

Galvanised, AQIS Approved Air Curtains Designed for Simple Maintenance



Air movement specialist Fanquip has designed an air curtain which not only exceeds all AQIS requirements; it has eliminated one of the most troublesome aspects of this equipment - difficult cleaning and maintenance

Fanquip Air Curtain Model 13-15123 is ideal for butcheries, abattoirs, food processing plants, cereal processing companies and the pharmaceutical industry.

One of its key features of operation is ease of maintenance. Service personnel have traditionally had to wrestle with difficult casings and fixtures on air curtains just to do perform installations, cleaning or periodical maintenance.

But maintenance on this new Fanquip unit had been reduced by about 80% as only six screws need to be removed from the fascia to gain full access to the mechanics of the unit.

So it is classed as a more 'cleaner friendly' design, which is particularly important to the food industry where cleaning is an almost daily requirement.

It will be far easier to install than traditional air curtains have been to date and much more cost-effective during operation.

The equipment is heavy duty, centrifugal configuration and supplied in galvanised construction with an option for food grade stainless steel for units in zones are demanding this material.

AQIS requirements specify standard air speeds of more than 8 m per second at 900 mm above the floor on doorways covered by air curtains. Fanquip says that these air curtains not only exceed this, but are unrivalled in their performance in the industry to date.

The typical Fanquip 2010 model air curtain is constructed and supplied with IP56 moisture protection to maintain long lifespan in humid or damp conditions, or steam-process environments.

A powder coated finish provides aesthetics required to blend into any new or existing installation.

More from Material Handling & Storage