Applicator delivers hemostatic powder to surgical wounds.
Press Release Summary: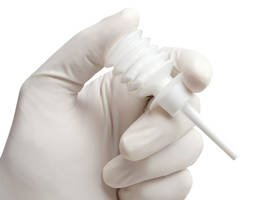 Consisting of plastic device with long, flexible tube, FlexiTip(TM) applicator is used with Arista(TM) AH Absorbable Hemostat to deliver Arista AH powder deep into hemorrhagic wounds and difficult to reach locations during surgery. Arista AH bellows applicator attaches to end of FlexiTip, creating reservoir of powder which flows through tube when bellows are compressed. Plant-based, flowable powder dehydrates blood, enhancing clotting on contact, and is absorbed within 24-48 hr.
---
Original Press Release:
Delivers Arista(TM) AH Absorbable Surgical Hemostat to Difficult to Reach Bleeding Wounds
MINNEAPOLIS, Dec. 4 // -- Medafor, Inc., announced today the introduction of the FlexiTip(TM) applicator for use with its Arista(TM) AH Absorbable Hemostat. Arista AH is the simple, safe and effective hemostatic powder recently approved by the FDA for most types of surgery including cardiac, orthopedic, spinal and general surgical applications. The FlexiTip applicator is a lightweight, plastic device with a long, flexible tube to provide accurate delivery of Arista AH powder deep into hemorrhagic wounds and into difficult to reach locations during surgery. The Arista AH bellows applicator attaches to the end of the FlexiTip to create a reservoir of powder which flows through the tube when the bellows are compressed. Arista AH consists of Medafor's patented Microporous Polysaccharide Hemospheres (MPH(R)), a plant-based, flowable powder engineered to rapidly dehydrate blood, enhancing clotting on contact. Arista AH facilitates the formation of a highly resilient, natural clot within just a few minutes regardless of the patient's coagulation status. Arista AH is the only new generation surgical hemostat that is instantly ready to use, requiring no mixing, no addition of patient blood or other components and no special handling or storage conditions. Pre-clinical evaluations, clinical studies and surgical use have shown the hemostatic capabilities of Arista AH to be comparable to the current popular choice of surgical hemostatic materials, while its unique formulation allows for rapid and complete absorption within 24 to 48 hours. Because Arista AH degrades so rapidly, it does not promote infection. "As with the recent introduction of Arista AH to the U.S. surgical market, the arrival of the FlexiTip applicator significantly improves the options available for safe, efficacious hemostasis during surgical procedures," said Gary Shope, Medafor C.E.O. For information about Medafor's technology, research and products, visit www.medafor.com/. Medafor, Inc., is a privately held Minnesota Corporation based in Minneapolis. MPH(R), FlexiTip(TM) and Arista(TM) AH are trademarks of Medafor, Inc. Source: Medafor, Inc. CONTACT: Kraig Black of Medafor, Inc., black@medafor.com , or +1-763-231-8246 Web site: http://www.medafor.com/
More from Fluid & Gas Flow Equipment