Application Management Software performs in cloud environment.
Press Release Summary: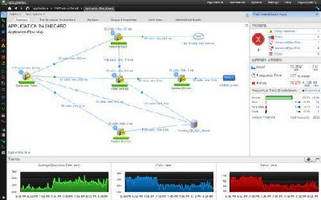 Delivered via SaaS, AppDynamics APM solution offers performance monitoring for Microsoft Azure cloud apps. AppDynamics Pro provides visibility and troubleshooting for .NET application architectures that are distributed and componentized. Designed for both cloud and complex distributed environments, AppDynamics self-learns performance baseline of application, enabling solution to keep up with cloud-based applications that spin up and spin down nodes based on pre-configured thresholds.
---
Original Press Release:

AppDynamics Introduces the First .NET Application Management Solution Designed for Cloud and Modern Environments



Innovative strategy includes Freemium, SaaS, and Microsoft Azure components at an attractive price

SAN FRANCISCO, --AppDynamics, Inc., the leader in application performance management (APM) for the cloud generation, has delivered a disruptive new .NET monitoring and management solution designed to remake the face of APM for IT professionals who support critical .NET environments. Delivered via a Software-as-a-Service (SaaS) model and bolstered by a freemium marketing strategy, where users can "try before they buy" via a free download, AppDynamics' .NET product delivers unmatched visibility, code-level diagnostics, and extraordinary ease of use.

AppDynamics' go-to-market strategy for .NET performance management includes:

1. Freemium model: Disrupt the market with a one-of-a-kind free .NET performance troubleshooting tool available to all .NET IT Professionals.

2. Cloud Ready: Plug-and-play performance monitoring for Microsoft Azure cloud apps.

3. Software-as-a-Service: AppDynamics Pro edition for .NET and Java is available as Software-as-a-Service (SaaS) and on-premise deployment options.

4. Support for Modern .NET architectures: AppDynamics Pro provides unmatched visibility and troubleshooting capabilities for modern .NET application architectures that are distributed, componentized, and agile. It also includes support for hybrid .NET/Java environments.

5. Transparent and Affordable Pricing: AppDynamics' .NET pricing is publicly available on AppDynamics.com and is less than half the price of legacy APM solutions.

AppDynamics is distinct from other APM tools due to its ability to perform in the volatile environment of the cloud, making it a perfect fit for application owners who are migrating applications to Microsoft Azure. Designed from the ground up for the cloud as well as complex, distributed environments, AppDynamics self-learns the performance baseline of an application--enabling the solution to keep up with cloud-based applications that constantly spin up and spin down nodes based on pre-configured thresholds.

"We've successfully used AppDynamics for the last year to get visibility into our Java applications at a level that we have not seen before," said Jim Wyatt, Systems Architect at Pearson eCollege. "With AppDynamics' support for .NET, we can now trace transactions that span our Java and .NET application tiers. We've tried other tools to watch our applications, but AppDynamics is the first one that enables eCollege to monitor transaction performance across technology stacks with business context. These capabilities have been key for us to respond to new demands on our application."

"We're enthusiastic about making application performance easier for .NET stakeholders," said Jyoti Bansal, Founder & CEO of AppDynamics. "Typically, we've seen .NET monitoring tools conform to the stodgy rules of enterprise software: difficult to deploy, expensive, requiring tons of configuration, and never offering anything for free in advance of a purchase. AppDynamics intends to rewrite all of these rules, and our happy .NET customers to date are evidence of the high market demand for our unique approach."

"The APM market is evolving along with other IT services, where the future is SaaS offerings alongside traditional delivery models. Few vendors are ahead of this shift, offering these flexible solutions with additional freemium offerings to enable stickiness," said Jonah Kowall, a Gartner analyst who covers the Application Performance Monitoring space. "The advantage to customers is two-fold: 1) they can use the vendor's free product for months and receive value while also validating the vendor's products work as designed and 2) when they decide to enhance their solution with enterprise offerings, they can obtain cost efficiencies and ease of deployment which have been proven in other SaaS markets such as ERP, CRM, Service Desk, and CMS."

Pricing is another area where AppDynamics seeks to displace legacy .NET providers. Typically, enterprise deployments of .NET monitoring products have started in the high six figures. The price for AppDynamics Pro starts at $2,000 for an annual subscription for a single Windows Operation System instance.

About AppDynamics

AppDynamics is the leading provider of Software-as-a-Service (SaaS) and on-premise application performance management for modern application architectures in both the cloud and the data center. The company delivers solutions for highly distributed and agile environments, helping companies such as Priceline, TiVo, and ZipRealty monitor, troubleshoot, diagnose, and scale their production applications. Over 40,000 people have downloaded AppDynamics Lite, the company's free java troubleshooting solution, and the company was recognized as a Gartner Cool Vendor in IT Operations Management. Visit our blog or follow us on Twitter.

CONTACT: Greg Howard of AppDynamics, Inc., +1-415-442-8428, pr@appdynamics.com

Web Site: www.appdynamics.com

More from Materials