Apeks Supercritical Hits Industry Milestone Putting 600th CO2 Cannabis Oil Extraction System into Service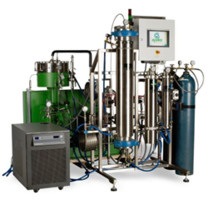 Apeks Systems help meet rising global demand for cannabis/hemp oil and infused products.
JOHNSTOWN, OHIO (PRWEB) JULY 17, 2019
Apeks Supercritical, one of the world's largest CO2 extraction system manufacturers serving the cannabis industry, is putting its 600th CO2 extraction system into service for Southern Extraction Laboratories LLC, a new CBD and hemp production company in North Carolina. The delivery of this system marks a milestone for Apeks Supercritical, that developed and delivered its first extraction system in 2001. Today, Apeks Supercritical has more CO2 production systems in operation than any other manufacturer with the combined capability of producing in excess of 3,000 tons of oil annually.
"Building our 600th system is something we are very proud of because it's more than just hitting a number to us. It is a rare example of stability in a market that's been fighting to find level ground since its inception," said Apeks Supercritical President Andy Joseph. "We recognize demand creates opportunity and as the demand for oils continues to rise, producers need to have confidence in the extraction systems that drive their production and bottom lines."
The 600th system was delivered and put into service at Southern Extraction Laboratories LLC, in Dublin, North Carolina. The company took advantage of the pilot hemp program initiated to get the industry up and running throughout the state. Southern Extraction Laboratories is working with local farmers as a total processing facility, working on raw ingredients as well as producing vapes, tinctures, topicals and other consumer products that are created with CBD and hemp oils. As 2019 is the first full year for cultivation in the state, Southern Extraction Laboratories saw a need for processing services, and selected Apeks to build the system that will get them started and guide them to growth.
"I did a lot of research before investing in a system for our business and determined CO2 extraction was the method we wanted to use," Southern Extraction Laboratories President Jeffrey Smith said. "Finding the right partners is critical to developing a successful business and Apeks has more experience than any other company in this field developing and building CO2 extraction systems. We're excited to work with Apeks to get our operation up and running for the fall harvest, and are confident this system will not only deliver what we need to get off the ground, but help us scale as the North Carolina industry grows."
The 600th system delivered is a popular Apeks Supercritical model called The Transformer™. The Transformer™ is designed for mid-range production operations with plans to transition to high production in the future. It is a fully automated, energy efficient system with production capacity of up to 25 pounds (cannabis), 31 pounds (hemp) per day. Since the launch of The Transformer™ in 2012, Apeks Supercritical has delivered more than 170 similar systems to customers globally.
Even with a steadily growing demand, entering the cannabis industry remains a big risk. Apeks Supercritical has gained a reputation for being a trustworthy and groundbreaking production system manufacturer that companies can count on to not only develop tailored production extraction systems but be a partner well beyond installation.
"The last thing young companies need to worry about is whether their equipment manufacturer will be around next year. We're proud that our clients know they can rely on us year after year to provide the best in CO2 extraction technology and the service that allows them to keep growing their business," added Joseph.
CO2 botanical extraction systems produce cleaner products than alternative extraction methods. CO2 simply evaporates out of the extract, leaving no trace behind. A cleaner extract gives the end user greater flexibility in producing a more differentiated line of high-quality products - an important advantage with the evolving demands of today's more educated cannabis consumers.
About Apeks Supercritical 
Apeks Supercritical has been designing and hand crafting the industry's highest quality CO2 extraction systems for nearly 20 years. It has built and distributed more production CO2 extraction systems than any other company in the world. Since 2001, Apeks Supercritical has been designing, refining, and manufacturing botanical oil extraction systems utilizing subcritical and supercritical CO2 — a cleaner, safer, purer, and faster way to extract plant oils.
Apeks Supercritical is owned by the husband and wife team of Andy and Kristen Joseph, both experienced engineers and welders. Andy started his career with the U.S. Navy working with nuclear submarine reactors. It was this experience and expertise that led to the development of the first cannabis extraction system in 2001. Kristen is a member of the ASTM D37 committee, working to develop standards for the cannabis industry.
Contact Information
Chris Herbert
Apeks Supercritical
http://www.apekssuperciritical.com
614-448-8703
Related