Antistatic Industries announces a NEW conductive, 103 Black Static Paint®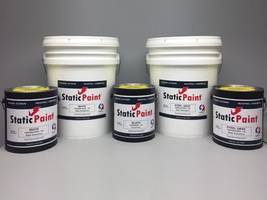 Northvale, NJ – Antistatic Industries, a division of ADM Tronics, Inc. (OTCQB-ADMT) has announced the development of a new, conductive Black Static Paint®. which measures 103 ohms. "This particular low measurement is important for those who need a conductive paint/coating which will take a static charge to ground quickly and effectively", stated Thomas Kistler, Chief Operating Officer at Antistatic Industries. "We have static dissipative paints in the range of 107-109 and conductive paints in the range of 103-105, but this is a breakthrough for us to be able to develop and produce a black conductive paint with a consistent 103 reading", he continued to say.  
Antistatic Industries manufactures static dissipative products such as Static Paint® which is used to eliminate static build-up. Static Paint® is available in all colors including custom at no additional charge. Eliminating static build-up will help protect valuable electronic equipment and eliminate any static shock to workers in the area. 
Industries and areas served:
Aerospace
Architects
Painting Contractors
Electronics Manufacturing
Facility Management
Computer Rooms/IT
This announcement comes as Antistatic Industries continues to lead in the efforts in ESD and static control products.
For more information, please contact: Antistatic Industries - 224 Pegasus Avenue, Northvale, NJ 07647 201.660.7800 antistaticindustries.com info@antistaticindustries.com