Antifreeze/Coolants help protect heavy-duty vehicles' engines.
Press Release Summary: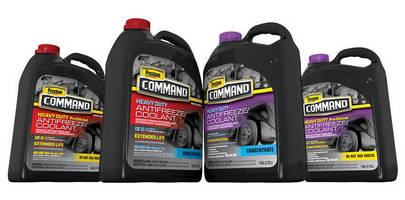 Prestone Command™ Heavy-Duty Antifreeze/Coolant products include Extended Life formulation, which provides 600,000 mile/12,000 hr CAT EC-1 protection for any diesel-powered heavy-duty engine against temperature extremes, rust, corrosion, scale, and water-pump failure. Extended Service formulation is SCA pre-charged and provides protection from freezing, overheating, cavitation erosion, corrosion, scale, and foaming in any heavy-duty engine with need-release filter technology.
---
Original Press Release:

New Prestone Command(TM) Family of Heavy-Duty Antifreeze/Coolants Launched at Heavy-Duty Aftermarket Week (HDAW) 2013



Lake Forest, IL – Prestone Products Corporation, a leading manufacturer of antifreeze/coolant, cooling system flush/cleaners and other performance chemicals for the North American vehicle market, is proud to announce that it will be introducing its new Prestone Command™ Heavy-Duty Antifreeze/Coolant products at the upcoming Heavy-Duty Aftermarket Week (HDAW) 2013, which will be held from Jan. 21-24 at The Mirage Hotel & Conference Center in Las Vegas, NV. HDAW provides attendees with opportunities to listen, learn and gain knowledge relating to the heavy-duty vehicle industry's best practices and trends.



"Our new family of Prestone Command™ Heavy-Duty Antifreeze/Coolant products are the latest innovations that Prestone is offering to the North American heavy-duty vehicle market," said Greg Noethlich, President of Prestone Products Corporation. "Prestone Command takes the specific needs of the heavy-duty fleet operator into account and delivers 'Anywhere. Anytime. Any Engine.™' protection that helps to prolong engine life. HDAW is the perfect venue for us to introduce this game-changing product to the heavy-duty vehicle market."



Prestone Products Corporation developed patented Prestone Command™ as an advanced antifreeze/coolant technology that will revolutionize the world of engine protection, no matter the weather conditions. It is available in two different formulations:



• Extended Life provides 600,000-mile/12,000-hour CAT EC-1 protection for any diesel-powered heavy-duty engine. Its patented formula protects aluminum and all other engine metals against temperature extremes, rust, corrosion, scale and water-pump failure, and is compatible with any other heavy-duty antifreeze/coolant. A prediluted 50/50 formulation is available for convenient top-off applications.

• Extended Service is SCA pre-charged and provides advanced protection from freezing, overheating, cavitation erosion, corrosion, scale and foaming in any heavy-duty engine with need-release filter technology that is used in normal to severe duty cycles and extreme temperature conditions. A prediluted 50/50 antifreeze/coolant formulation and demineralized water dilution is available for convenient top-off applications.



In addition to its new antifreeze/coolant products, Prestone Products Corporation is also launching its Prestone Command™ Diesel Exhaust Fluid (DEF), a liquid reducing agent that has been developed for use in all diesel engines that are equipped with a Selective Catalytic Reduction (SCR) system.



The new Prestone Command™ line of products introduced at HDAW is specifically designed to help keep heavy duty vehicles worry free and operating at the optimum level. For more on Prestone Command™ antifreeze/coolant, please visit www.prestonecommand.com.



Prestone Products Corporation manufactures and markets Prestone® antifreeze/coolant and related products. For more than 80 years, the Prestone name has provided customers with high quality products, including one of the leading brands of antifreeze/coolant. The company's heavy-duty division is headquartered in Lake Forest, IL, USA, and recently launched its Prestone Command™ brand of products specifically engineered for the most demanding heavy-duty on-road and off-road applications. You can find more at www.prestonecommand.com.



Media Contact:

Darren Wight, VP Publicity & Media

DeanHouston, agency for Prestone Heavy Duty

(513) 280-0047 or dwight@deanhouston.com

More from Computer Hardware & Peripherals