Anti-Static Drum Labels protect workers and increase safety.
Press Release Summary: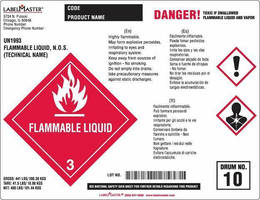 Suited for painted steel, fiber, or plastic drums, electrostatic dissipative (ESD) labels reduce time static charge is held during printing, application, and removal and also reduce charge buildup on label after application. These ultra-porous, 8 3/8 x 14 7/8 in. and 8 3/8 x 10 7/8 in. labels, available in up to 4 colors, labels can be customized with all required information and withstand rough handling, harsh chemicals, extreme temperatures, UV exposure, moisture, scraping, and abrasion.
---
Original Press Release:

Labelmaster Takes the Charge Out of Labels



Static Dissipative Drum Labels Designed to Improve Industrial Workplace Safety



CHICAGO – Labels that carry a strong electrostatic charge add unwanted risk when labeling in fuel-rich, volatile vapor-filled environments. To make hazardous materials labeling safer and protect workers, Labelmaster has developed durable anti-static drum labels – called electrostatic dissipative (ESD) labels – made of materials that naturally dissipate static charges faster than traditional vinyl drum labels.



"In certain industrial settings, such as chemical plants and coatings manufacturers, mitigating the effects of static electricity in the labeling process and elsewhere is critical," said Tom Chekel, product engineer for Labelmaster. "Traditional laser printing is an electrostatic process that actually adds additional charge to labels as toner inks are bonded to label surfaces."



A static discharge is generated when a label is separated from its liner and then applied to a container. Labelmaster's ESD drum labels feature a material that rapidly reduces the potential for static discharge during label application.



"This is important because a static charge could potentially ignite vapors surrounding a container as it's being labeled," Chekel added.



Labelmaster's ultra-porous, super static-absorbent ESD labels reduce the time a label holds a charge during printing, application and removal. The labels also reduce the charge buildup on a label after it's been applied, thereby lessening the chances for future discharges.



In addition to its anti-static measures, the ESD labels are designed to withstand rough handling, harsh chemicals, extreme temperatures, UV exposure, moisture, scraping and abrasion.



"The ESD labels are tear resistant, impervious to abrasion, resist chemicals, solvents and water, and are virtually indestructible," said Chekel. "They are ideal for painted steel, fiber or plastic drums, and are inherently safer for hazardous environments."



Labelmaster's ESD labels are available in up to four colors and can be customized and personalized to include all of the information needed including DOT Hazard Class and GHS information. Measuring 8 3/8 x 14 7/8 inches and 8 3/8 x 10 7/8 inches, they are sold in packs of 250.



"We have a huge selection of additional ESD label sizes available and customer inquiries are welcome," Chekel added.



For more information and to order static dissipative labels, visit www.labelmaster.com/anti-static-drum-labels; call (800) 621-5808; or email orders@labelmaster.com.



About Labelmaster

Labelmaster specializes in helping companies – big and small – comply with the complex and ever-changing regulations governing dangerous goods/hazardous materials. Founded nearly 50 years ago, it provides expertise matched with the most comprehensive assortment of products, software and services on matters relating to dangerous goods including OSHA hazard communication products, DOT placards, labels, regulatory publications, UN packaging and more. To learn more about Labelmaster, visit Labelmaster.com, find us on Facebook or follow us on Twitter.

More from Electrical Equipment & Systems