Anti-Spatter Refilling Station minimizes welding's environmental impact.
Press Release Summary: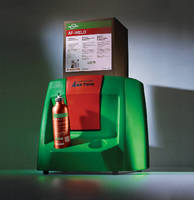 Comprised of automatic refilling station, reusable aluminum bottle, and 10 L bag-in-box of AF-Weld anti-spatter product, Air Force/AF-Weld minimizes environmental impact by using compressed air as propellant and eliminating need to dispose of empty aerosol cans. Anti-spatter formula inhibits corrosion, allows for immediate painting, and helps prevent weld porosity. Emulsion retracts in presence of heat, leaving immediate welding area clean and void of liquid.
---
Original Press Release:

Walter Surface Technologies Launches "Air Force AF-Weld" as Unique, New Automatic Refilling Spray Bottle System



Windsor, Connecticut - WALTER SURFACE TECHNOLOGIES USA announces creation of the new Air Force / AF-Weld, a revolutionary system to reduce the costs of welding operations while simultaneously minimizing the environmental impact. It also provides a "hassle-free" welding experience with its anti-spatter formula that inhibits corrosion, allows for immediate painting, and helps prevent weld porosity.

Thanks to the addition of special and natural ingredients, the new AF-Weld anti-spatter emulsion retracts in the presence of heat leaving the immediate welding area clean and void of liquid. This remarkably helpful condition effectively prevents anti-spatter liquid from chemically interacting with the metal during fusion and thus minimizes impurities and porosity in the weld. This aids welders in making "clean" welds and increases both the quality and productivity of their work.

For a demonstration, click:
http://link.brightcove.com/services/player/bcpid3344859001?bclid=1184427900&bctid=61762293001

This new, globally patented automatic refilling spray bottle system is also a MONEY SAVING WAY of dispensing the popular Walter made anti-spatter product line for minimizing post-welding operations.

Air Force / AF-Weld is comprised of an automatic refilling station, a reusable aluminum bottle and a 10L bag-in-box of AF-Weld anti-spatter product. This Air Force system immediately reduces environmental impact by using compressed air as a PROPELLANT and by eliminating the need to dispose of empty aerosol cans of anti-spatter.

Previously, use of the aerosol cans made it impossible to completely empty the sprayer containers, resulting in an estimated wastage of 10% per aerosol can plus the cost of hauling away the mountains of spent empties, which is estimated to be 15% of the purchase price.

With this new system, since no useful liquid is discarded, the empty bottle is simply refilled over and over. Empirical tests demonstrate that a 10 liter (2.64 gals) bag-in-box of AF-Weld can replace as many as 36 aerosol cans of anti-spatter, so the system also significantly reduces costs of storage, handling, and disposal. Also, imagine that hundreds of thousands of out-moded aerosol cans will no longer find permanent resting places in landfills or other parts of our environment.

Clearly, the Air Force / AF-Weld system combines the convenience of aerosol cans with the cost effectiveness of bulk packaging. It is also safe, simple to use, and enables welders to produce spatter-free welds while helping prevent weld porosity.

Air Force is a core member of J. Walter Ltd and its growing Bio-Circle Division which focuses on Environmental Solutions. Privately held, with U.S. headquarters in Windsor, Connecticut, Walter has served the metal fabricating and related industries throughout the Americas and Europe for over fifty years. The company's quest to improve sustainable development continues in associated university and commercial research laboratories across the USA, Canada and Europe.

For additional information: www.walter.com

More from Electrical Equipment & Systems