ANSI Digital Switchgear continuously self-supervises.
Press Release Summary: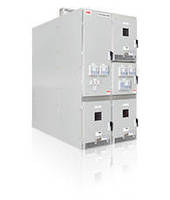 Instead of conventional current transformers and potential transformers, ReliaGear® ND Digital Switchgear incorporates current sensors, which do not saturate, and voltage sensors in place of voltage transformers. Using sensors enables voltage and current measurement to be performed using low energy analog inputs, so working within low voltage cabinet is safer for personnel. Metal-clad, 15 kV, 2-high switchgear is continuously self-supervising, with maximized error detection.
---
Original Press Release:

ABB Enhances its ANSI Switchgear Product Offering with Digital Switchgear



Dallas, Texas, – The first in the ANSI digital switchgear offering is the new ReliaGear® ND Digital, an advanced switchgear solution, addressing critical requirements of future system needs for a safe, reliable and efficient electrical network.



As part of its continuously growing product offering, ABB, the leading power and automation technology company, today announced the launch of ReliaGear® ND Digital switchgear.



ABB is introducing new technology to conventional switchgear for protection, control, and automation resulting in a solution that is continuously self-supervising, with maximized error detection. ReliaGear® ND Digital makes simple and complex protection and control schemes scalable, and offers flexibility towards load changes without requiring a change in hardware.



Instead of conventional current transformers and potential transformers, ReliaGear ND Digital incorporates current sensors, which do not saturate, and voltage sensors in place of voltage transformers, improving system operational ability and creating the smallest 15 kV, 2-high, metal-clad switchgear design in the industry.  Using sensors enables voltage and current measurement to be performed using low energy analogue inputs, so working in and around sensors and within the low voltage cabinet is safer for personnel.



"ABB is moving to the next level of performance for metal-clad switchgear, offering customers exceptional benefits and features unavailable in conventional metal-clad switchgear," said Mark Heiny, vice president and general manager of ABB Medium Voltage Switchgear Products. "The simplicity in design and flexibility towards late stage customization reduces lead time from order to delivery, helping customers to meet rigid schedule demands."



ABB's new ReliaGear ND Digital offering integrates innovative, yet proven, technologies, enabling customers to meet performance requirements, while adapting to the growing sophistication of power distribution systems. For more information on ReliaGear ND Digital, visit the website or contact Alex Lizardo, ReliaGear® Product Line Manager.



ABB will be demonstrating the ReliaGear ND Digital advanced switchgear solution at the 2016 IEEE PES Conference and Exhibition in Dallas, at the ABB booth (#5216).



ABB (www.abb.com) is a leader in power and automation technologies that enable utility and industry customers to improve performance while lowering environmental impact. The ABB Group of companies operates in around 100 countries and employs about 135,000 people. The company's North American operations, headquartered in Cary, North Carolina, employ about 27,000 people in multiple manufacturing, service, engineering and other major facilities.



For more information, please contact:

Bill Rose

ABB Inc.

Media Relations Manager

Power Grids Division

North America

901 Main Campus Drive

Raleigh, North Carolina, 27606 USA

Phone: 1 919 807 5743

Mobile: 1 919 244 4879

email: bill.rose@us.abb.com

Twitter: @BillRose_ABB











More from Materials