ANSI Centrifugal Pumps offer range of seal options.
Press Release Summary: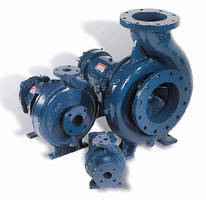 Intended for fluid handling applications, 811 Series is available with broad selection of seals that can accommodate most any fluid and temperatures up to 500°F. Oversized seal chambers provide optimal seal environment for heat dissipation, solids, entrapped air, and vapor. Radial clearances between mechanical seal and seal chamber wall maximize circulation of liquid to and from seal faces. Standard, large, and tapered bore style chambers are available.
---
Original Press Release:

Griswold's 811 Series ANSI Centrifugal Pumps Offer a Versatile Range of Seal Options



Grand Terrace, CA - October 27, 2009 - As one of the world's leading manufacturers of ANSI centrifugal pumps, Griswold(TM) Pump Company has developed its 811 Series ANSI Pumps to offer end-users the flexibility, durability and performance needed in a wide range of fluid-handling applications. As such, Griswold has designed its 811 ANSI pumps to be compatible with a broad range of options and upgrades that tailor their handling and performance to meet virtually any fluid-processing operation.

One of these areas is in the seal chambers. The seal chambers of Griswold 811 pumps have been engineered to provide an optimum seal environment for heat dissipation, solids, entrapped air and vapor. These oversized seal chambers feature increased radial clearances between the mechanical seal and seal chamber wall to provide better circulation of liquid to and from seal faces. The seal chambers are available in three styles: standard bore, which is ideal for packing or mechanical seals handling mild fluid at ambient temperatures; large bore, which can handle solid greater than 10% (when used in conjunction with a close clearance throat bushing and external flush) with a radial clearance that ensures improved liquid circulation, lubrication and cooling; and tapered bore, which services 10% solids or fluids containing entrained air or vapors thanks to its self-draining and -venting design.

Additionally, Griswold's broad selection of seals can accommodate most any fluid and temperature up to 500-degrees F for chemical, petroleum, pharmaceutical and general industry applications. Options include cartridge or component, single or double, inside or outside, and balanced or unbalanced seals or conventional packing. Finally, Griswold offers ANSI B73.1 seal-flush and cooling plans that control emission levels, improve lubrication and cooling of the seal faces, and reduce pump downtime.

For more information on Griswold's 811 ANSI Pumps, or any other products, contact Andrew Usuki at (909) 512-1268, or Andrew.Usuki@pumpsg.com.

Griswold Pump Company is a full-line pump manufacturer with product lines dating back more than 70 years. Included among its industry-leading pump lines are ANSI, end-suction centrifugal pumps, self-priming pumps and submersible/vertical turbines. These pump styles allow Griswold to serve a broad range of chemical process, industrial and municipal applications. Griswold Pump Company-headquartered in Grand Terrace, California, USA-is a member of Dover Corporation's Pump Solutions Group (PSG).

More from Electrical Equipment & Systems