Announcing the New WM-4 Satellite Weather and Audio Receiver Rebate Promotion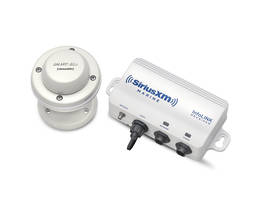 Egersund, Norway – Navico®, parent company to the Lowrance®, Simrad Yachting, B&G® and C-MAP® brands announced today a special, double-rebate opportunity, allowing consumers to get up to $175 cash back on the WM-4 SiriusXM® Marine Weather/Audio Satellite Receiver. 
Effective January 1 through March 31, 2021, SiriusXM is offering a new bonus $75 rebate on WM-4 to coincide with the year-long SiriusXM $100 rebate on the WM-4, which runs through December 31, 2021.
To qualify for the SiriusXM rebate, customers must purchase the WM-4 and activate a SiriusXM Marine Weather or Fish Mapping (available soon with software upgrade) subscription package and maintain at least 60 days of continuous service. The subscription must be activated by January 31, 2022.
With the WM-4 and an active SiriusXM Marine Satellite Weather subscription, boaters in the Continental U.S. and Southern Canada can access up-to-date, detailed weather forecasts, weather radar, lightning, storm warnings, sea surface temperature and much more, all delivered directly to the WM-4 Satellite Weather receiver.
Compatible with Lowrance HDS and Elite FS™, Simrad NSS and GO as well as B&G Zeus and Vulcan Displays – the WM-4 system overlays weather information onto the chart to keep boaters weather aware for safer navigation. Additionally, the WM-4 offers access to more than 140 SiriusXM radio channels at a discount, when an audio subscription is added to a weather subscription.
For more information on the WM-4 or the Navico brands, please visit www.lowrance.com, www.simrad-yachting.com, pro.simrad-yachting.com, www.bandg.com and www.c-map.com.
About Navico
A privately held, international corporation, Navico is a leading marine electronics company, and is the parent company to leading marine electronics brands: Lowrance, Simrad, B&G and C-MAP. Navico has approximately 1,800 employees globally and distribution in more than 100 countries worldwide. www.navico.com
Contact:
Andrew Golden
Rushton Gregory Communications
agolden@rushtongregory.com
Tel. 617-413-6521