Announcing: High Flow In-Line Filters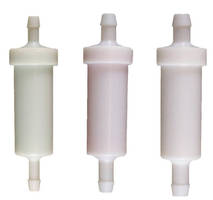 Industrial Specialties Mfg. announces an update to an existing product group of in-line filters. Hose barb sizes include: 1/4", 5/16" and 3/8" with an overall length of 4". Micron sizes include: 20, 65, 105, 150 and 250, and are available in nylon or polyester. These high flow filters are made of Acetal. The robust housing design can operate in medium and low pressure situations and is ideal for chemical solutions, ink, water, oil, gasoline, fuel and alcohol. Samples are available.

For more information, please contact Mike Elrod, Industrial Specialties Mfg., 4091 S. Eliot Street, Englewood, CO. 80110. Phone: (303) 781-8486. Toll free: (800) 781-8487. Fax: (303) 761-7939. Website: www.industrialspec.com. Email: sales@industrialspec.com.

More from Electronic Components & Devices