Angular Position Sensing IC suits automotive applications.
Press Release Summary: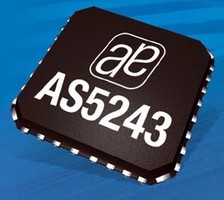 Combining integrated Hall elements, analog front end, and digital signal processing in 7 x 7 mm QFN package, Model AS5243 10-bit contactless magnetic angle position sensor offers accurate measurement up to 360°. It can detect 1,024 absolute positions over full turn, 180 and 90° which correspond to resolution of minimum 0.087°. Unit provides 2 separate programmable analog outputs including angular range, output voltage range, and voltage/current output.
---
Original Press Release:

austriamicrosystems Announces AS5243, a 10-Bit Magnetic Angular Position Sensing IC for Challenging Automotive Applications



AS5243 is a system-on-chip combining integrated Hall elements, analog front end and digital signal processing in a thin QFN package

Unterpremstaetten, Austria (June 6, 2008) - austriamicrosystems (SWX: AMS), a leading global designer and manufacturer of high performance analog ICs for automotive, communication, industry and medical applications, supplies AS5243, a redundant magnetic rotary encoder IC for high performance automotive applications. MEGA -
Line RACING ELECTRONIC GmbH, a specialist in development of high performance automotive racing applications, used the AS5243 to ensure optimized gear change by measuring the absolute position of the barrel shaft. The AS5243 was successfully tested in a racecar which won the Le Mans 24 hours, one of the most ambitious races in the world.

The sensing solution developed by MEGA-Line RACING ELECTRONIC is based on austriamicrosystems' AS5243 redundant magnetic angular position sensor device which, due to its contactless measurement method, makes the system highly reliable, especially in harsh environments. The AS5243 also monitors the abrasion over the
economic life-time of the gearbox. The high performance 10-bit analog output and the extended temperature (range up to 150°C ambient) ideally meets the demands of many safety critical automotive, industrial and robotics applications.

"Our close collaboration with MEGA-Line RACING ELECTRONIC helps us to be successful with innovative solutions on the market," said Bernhard Czar, Director Marketing Automotive at austriamicrosystems.

"austriamicrosystems' wide portfolio of magnetic angular position sensors meet a broad range of customer demands. We look forward to seeing further creative products emerging out of our partnership with MEGA-Line RACING ELECTRONIC."

"We are excited to be working with austriamicrosystems and their new AS5243 absolute angular position sensor technology," said Erwin Gassner, CEO of MEGA-Line RACING ELECTRONIC. "This magnetic encoder technology enables us to get an absolute feedback about the most important gearbox parameter. The barrel position is used to optimize the whole gear change sequence. This sensor has to be absolutely reliable and using the freely programmable AS5243 we do not even need any calibration procedure in the car."

The AS5243 is a complete system-on-chip contactless magnetic angle position sensor for accurate measurement up to 360° and includes two AS5143 devices in a punched stacked lead frame. It combines integrated Hall elements, analog front end and digital signal processing in a single device. Furthermore, the AS5243 provides two separate programmable analog outputs, including user programmable angular range, adjustable output voltage range, voltage or current output, which can be configured in many ways.

Additional features like CHIP-ID for traceability, programmable zero position, diagnostic modes - especially for the right adjustment of the magnet - and many other safety features have already become a standard of austriamicrosystems magnetic rotary encoder family.

A further benefit is the internal voltage regulator, which allows operation of the AS5243 from either 3.3V (reduce the power consumption, or 5.0V supplies). The AS5243 can detect 1,024 absolute positions over a full turn, 180 and 90 degrees which correspond to a resolution of minimum 0.087 degrees. austriamicrosystems' AS5243 fulfils the automotive qualification regarding AEC-Q100 and is available in a 7x7mm QFN32 package.

Product-specific information is available at
http://austriamicrosystems.com/03products/25_rot_enc_automotive_applications.htm

austriamicrosystems will demonstrate the AS5243 and the whole encoder family at Sensors Expo in Rosemont (June 8-11), Booth 621.

About austriamicrosystems
austriamicrosystems is a leading designer and manufacturer of high performance analog ICs, combining more than 25 years of analog design capabilities and system know-how with its own state-of-the-art manufacturing and test facilities. austriamicrosystems leverages its expertise in low power and high accuracy to provide industry-leading
customized and standard analog products. Operating worldwide with more than 1,000 employees, austriamicrosystems focuses on the areas of power management, sensors & sensor interfaces, portable audio and car access in its markets Communications, Industry & Medical and Automotive, complemented by its Full Service Foundry activities. austriamicrosystems is listed on the SWX Swiss Exchange in Zurich (ticker symbol: AMS).

About - MEGA-Line RACING ELECTRONIC
MEGA-Line RACING ELECTRONIC is one of the leading suppliers of assisted gear change systems for racing cars. The company is located in Saal, Germany, and is highly reputed for the innovative development, reliable delivery and excellent performance of their racing electronics. MEGA-Line has customers all over the world in various race categories like endurance, rallye, hill climbing and formula cars.

For further information
Technical Contact
austriamicrosystems AG
Andreas Pfingstl
Marketing Manager Automotive
Tel: +43 (0) 3136 500 5516
andreas.pfingstl@austriamicrosystems.com

www.austriamicrosystems.com

More from Laboratory and Research Supplies and Equipment