Angle Grinders feature spanner wrench on handle.
Press Release Summary: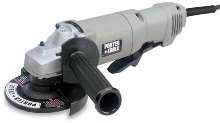 Series 7430K and 7416K 4½ in. angle grinders have spanner wrench on handle that facilitates changing pad, blade, disc, or other accessory during use. Operating at 10,000 rpm and incorporating 3-position auxiliary handle and case, 7430K provides 8 A power with paddle switch and 7416K provides 6 A power with slide switch. They suit sharpening, cutting, sanding, stripping, and grinding applications in construction, masonry, and automotive sectors.
---
Original Press Release:

Porter-Cable® Grinds Out More Innovation


Additions to Tool Line Strengthens Options for End-Users

JACKSON, Tenn. (March 17, 2004) - Like the recent introductions of the MAG-SAW(TM) line, the industry's first keyless blade change circular saw, and first 175 PSI high-pressure nailer, Porter-Cable® has once again upgraded a tool category with a unique feature benefiting users. The two new 4 ½" Porter-Cable® angle grinders, 7430K and 7416K have a spanner wrench on the handle reducing the time it takes to change a pad, blade, disc or other accessory during use. In addition, the new grinders extend the Porter-Cable® category to meet any regional preferences and cost-considerations.

"Porter-Cable® is recognized for designing innovative tools even in categories like grinders where feature improvements are limited," said David Johnston, Porter-Cable® senior product line manager. "The spanner wrench on the handle eliminates the need to find a tool to change a pad and ultimately maximizes work time. More over, the 7430K and 7416K compliment our existing line of grinders so users can look to Porter-Cable® regardless of the switch type, blade size and position, power, application, geographic location or cost."

The 7430K and 7416K both operate at 10,000 rmp and come standard with a three position auxiliary handle and a case. Porter-Cable® offers 8 amp power with paddle switch in the 7430K and 6 amp power with slide switch in the 7416K to meet the diverse demands of users. Primarily used for construction, masonry and automotive applications, the new grinders are ideal for sharpening, cutting, sanding, stripping and grinding various materials including wood, metal, fiberglass, plastic, concrete and painted surfaces. The 7430K and 7416K will be available in mid-April for $59.99 and $79.99 respectively.

Porter-Cable® Corporation (porter-cable.com), a subsidiary of Pentair Inc. (NYSE - PNR), is a leading manufacturer of portable electric and cordless power tools; air nailers, staplers and compressors; generators; pressure washers; and related accessories for the professional woodworking, commercial/residential construction, plumbing and electrical markets. With its manufacturing operation centralized in Jackson, Tenn., Porter-Cable® operates a second manufacturing facility in Steinheim, Germany, where its products are produced and sold throughout Europe under the FLEX brand name.