Android Tablet Computer targets industrial marketplace.
Press Release Summary: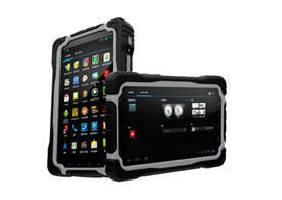 Featuring IP65-rated sealed design, Fusion 7 Rugged Android Tablet withstands environments with extreme temperature swings, intense shock and vibration, and high levels of moisture and dust. Unit is equipped with 1.2 GHz x4 Cortex A7 quad-core CPU, 7 in. display with capacitive multi-touch panel, integrated 802.11 and Bluetooth, and both front and rear cameras. Device is suited for warehousing/transportation, shop floor, military, process control, and field service applications.
---
Original Press Release:

Glacier Computer Announces the Fusion 7 Rugged Android Tablet for the Industrial Marketplace



New Milford, CT — The Fusion 7 Rugged Android Tablet extends the Glacier Computer product line of rugged industrial PCs, rugged tablets, portable hand-held devices, and fixed mounted data collection computers. Glacier Computer industrial computers are typically used in harsh industrial environments where a standard PC cannot survive. The Fusion 7 offers the enterprise and additional advantages of the Android OS while remaining sealed and ruggedized.



The Fusion 7 is compact, light, and feature-rich. It enables businesses and their mobile users to add efficiencies throughout the operation while providing a capital asset with a significantly-extended useful life, and a superior ROI. The Fusion 7 combines the advanced power management and memory management capabilities of Android enabling more than 1 million applications to run on the typically-rugged Glacier device.



"The industrial marketplace is finally ready to accept the changes needed to embrace the value of the Android platform," says Ron D'Ambrosio, President of Glacier Computer. "We have had a rugged Android computer for the last couple of years, but didn't get enough feedback from our industrial customers to release the product. It is still somewhat early, but with the input of much larger market influences in the industry, customers seem to be more amenable to at least talking about using the Android OS as a solution."



To further enhance the usefulness, and to ease some of the pain of adapting to the new OS, Glacier is collaborating with complementary business partners including The Allen Group and SOTI. These and other channel partners will enable broader adoption of the Android OS within the traditional Windows environments of the industrial marketplace.



The Allen Group (Fairfield County, CT) provides application development and consultative expertise to assist companies seeking fulfillment for mobile content delivery objectives, corporate digital branding initiatives, and development workflow requirements. While the Allen Group enhances the mobile user's capabilities, the Fusion 7 allows those mobile users to work in very harsh and/or ultra-clean environments.



About Glacier Computer

Glacier Computer LLC. (Glacier Computer) develops versatile, rugged industrial computing solutions for use within harsh environments. Founded in 2000, our products are used in stationary, portable, and vehicle-mount applications. Our customers use our rugged devices in industries including field service, construction, utilities, retail, warehouse, freight, healthcare, food and chemical processing.



Glacier Computer's company standards include a knowledgeable staff, an array of high-quality, value-based products, and a deep sense of customer service. Together with our strategic partners, we deliver comprehensive solutions to specific industry segments and resolve the unique needs of each customer. Glacier employees are committed to and share in the mutual success of our business, and possess a desire to help our partners and customers succeed.



For more information about all Glacier Computer products and services, visit our website at: http://www.glaciercomputer.com.



"Glacier is, where Rugged lives."

More from Communication Systems & Equipment