Analyzers with EMF Measurement ensure network safety compliance.
Press Release Summary: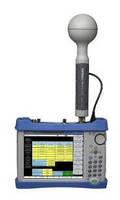 Spectrum Master™ MS271xE handheld spectrum analyzers and Cell Master™ MT8212E/MT8213E base station analyzers support electromagnetic field (EMF) radiation measurement option. With option installed and 0.7–6 GHz isotopic antenna attached, analyzers can be used to ensure wireless networks comply with personal safety standards. Total radiation from all sources can be measured over desired frequency band, and radiation measurements of demodulated signals can be conducted in specific bands.
---
Original Press Release:

Anritsu Introduces Electromagnetic Field Measurement System to Ensure Networks Comply with Personal Safety Standards



--   Option for Spectrum Master(TM) and Cell Master(TM) Handheld Analyzers Designed to Meet Needs of Regulatory Authorities and Operators --



MORGAN HILL, Calif. -- Anritsu Company introduces an electromagnetic field (EMF) radiation measurement system for its Spectrum Master(TM) MS271xE handheld spectrum analyzers and Cell Master(TM) MT8212E/MT8213E base station analyzers. With the option installed and an Anritsu isotopic antenna attached, the analyzers can be used by field technicians of government regulatory authorities and cellular operators to measure electromagnetic fields, ensuring wireless networks are in compliance with various national standards for personal safety.



The required Anritsu isotropic antenna, which operates over a frequency range of 0.7 GHz to 6 GHz, is a tri-axis E-Field sensor with an integrated RF switch device, microcontroller and memory. Each of the three sensors is situated orthogonally inside the antenna housing to transmit/receive a spherical radiation pattern. In this way, all radiation within the antenna's geographical position is measured by the Spectrum Master and Cell Master analyzers, regardless of direction.



For wideband radiation measurements, the EMF option operates in spectrum analyzer mode. Total radiation from all sources can be measured over the frequency band desired. The EMF option will also conduct radiation measurements of demodulated signals in specific frequency bands, including LTE, TD-LTE and W-CDMA. Measurements can be extrapolated assuming a fully loaded traffic channel to present a worst-case analysis.



EMF measurements are easy to use, as the analyzers provide numerous automated features. Limit lines can be set by the user at various levels across the desired spectrum, and saved for recall at a later time. Pass/fail indicators are displayed on the screen so users can have immediate feedback of test results. Additionally, results are automatically saved to an internal memory.



A multifunctional solution, the Spectrum Master eliminates the need for multiple instruments. In addition to conducting EMF measurements, the Spectrum Master can be configured to include a broad range of parameters, including a spectrum analyzer, an interference analyzer with signal mapping, coverage mapping, tracking generator, channel scanner, power meter, high accuracy power meter, AM/FM/PM analyzer, and GPS receiver.



The Cell Master is a compact handheld base station analyzer specifically developed for cell site technicians to meet virtually all of the measurement needs in and around a cell site of 2G, 3G and WiMAX networks. Over 30 analyzers are combined in the handheld instrument to meet virtually every measurement need.



About Anritsu Company

Anritsu Company is the American subsidiary of Anritsu Corporation, a global provider of innovative solutions for more than 100 years. With offices throughout the United States, as well as in Canada, Central America, and South America, Anritsu Company provides solutions for existing and next-generation wired and wireless communication systems. Its measurement solutions include optical, microwave/RF, wireless and digital instruments that can be used during R&D, manufacturing, installation, and maintenance. Anritsu Company also provides precision microwave/RF components, optical devices, and high-speed devices for design into communication products and systems.



For more information, please visit www.anritsu.com



CONTACT: Anritsu Contact: Siiri Hage, Director of Marketing Communications, Anritsu Company, siiri.hage@anritsu.com, 408.201.1010; Agency Contact: Patrick Brightman, 3E Public Relations, pbrightman@3epr.com, 973.263.5475

More from Machinery & Machining Tools