Analyzer measures UHP moisture in gaseous ammonia.
Press Release Summary: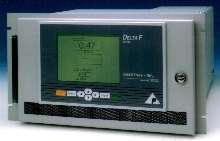 Tunable Diode Laser Absorption Spectroscopy (TDLAS) Moisture Analyzer utilizes laser-based technology to measure UHP levels of moisture in gaseous ammonia. Able to achieve sensitivity of 2 ppb and detection limit of 10 ppb, laser can be finely tuned to moisture peak so that ammonia does not interfere with measurement. By measuring intensity of laser before and after absorption by moisture, users can solve for number of moisture molecules in sample.
---
Original Press Release:

Measure UHP Moisture in Ammonia With Delta F's New Analyzer


Contact: Margaret M. Bower
Delta F Corporation
(781) 935-4600

A revolutionary new, laser-based technology is now introduced to measure UHP levels of moisture in gaseous ammonia. Delta F, the world's leader in trace and ultra-trace oxygen analysis, now offers a Tunable Diode Laser Absorption Spectroscopy (TDLAS) Moisture Analyzer to measure low moisture levels in ammonia.

The moisture measurement technology is governed by Beer's Law. Therefore, by measuring the intensity of the laser before and after absorption by moisture, you can easily solve for the number of moisture molecules in the sample since all of the other terms in the equation are constant.

Due to the capability of the laser to be finely tuned to a moisture peak, ammonia does not interfere with the measurement and a sensitivity (lowest detectable change) of 2 parts per billion and a low detection limit (LDL) of 10 parts per billion are achieved.

Delta F, famous for the NanoTrace product line of UHP oxygen analyzers, is pleased to now offer the DF740, NanoTrace Moisture in Ammonia Analyzer- with specifications that cannot be challenged!

Web: delta-f.com
e-mail: marketing@delta-f.com

More from Material Processing