Analytical Instrument aids protein measurement, characterization.
Press Release Summary: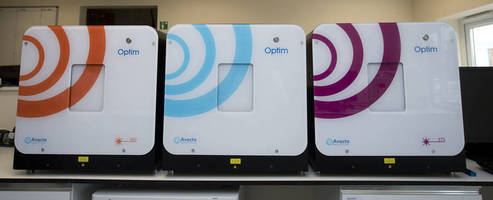 Reducing time of therapeutic protein preformulation studies, Optim® 2 probes multiple protein stability indicating parameters at high speed using 9 µl samples. Optim 375, intended for investigation of complex mixtures of membrane proteins, uses additional 375 nm laser source to provide stability screen based on chemical reactivity of cysteine residues. Using 445 nm laser source, Optim 445 can characterize relative viscosity of different samples and formulations in range of solvent environments.
---
Original Press Release:

Avacta Extends Optim® 2 Product Family for Even Greater Measurement Flexibility



Avacta's Optim® 2 platform is an innovative analytical instrument designed to probe multiple protein stability indicating parameters at high speed using ultra-low sample volumes. Developed to reduce the time and cost of therapeutic protein preformulation studies, the functionality of this compact instrument family has now been further enhanced with the addition of two new models.



The Optim 375 is intended for the investigation of complex mixtures of membrane proteins, using an additional 375 nm laser source to provide a novel stability screen based on the chemical reactivity of cysteine residues. The system can be used to effectively guide purification and biophysical characterisation efforts – including crystallisation – by tracking the exposure of cysteine residues within the protein interior as an indicator of protein unfolding, with the ability to simultaneously follow protein aggregation using the system's built-in static light scattering.



Avacta has also extended the Optim 2's sample viscosity measurement capabilities with the introduction of the Optim 445. Using a new 445 nm laser source, the system can be used to characterise the relative viscosity of different samples and formulations in a wide range of solvent environments, with no limitation on protein concentration. This instrument also provides the ability to follow amyloid fibril formation in parallel with protein unfolding and prefibrillar aggregation, using a combination of tryptophan fluorescence and static light scattering. These latest additions to the Optim 2 product family provide researchers with even greater access to protein stability data from just 9 µl sample volumes, helping to identify the candidate molecules or formulations with the most favourable properties much earlier in the development process.



For more information, visit www.avactaanalytical.com/optim-2



About Avacta Analytical

Avacta Analytical provides services and innovative instrumentation to the biopharmaceutical market. Our focus is to equip customers with a broad range of capabilities, enabling them to develop their therapeutics quicker, cheaper and better.



The groundbreaking Optim 2 instrument combines the powerful analytical capabilities of fluorescence and static light scattering technologies to provide valuable new insights.



Our services business specialises in supporting characterisation, formulation, comparability and stability studies of therapeutic proteins. We are able to draw upon a wide range of analytical capabilities and aim to give our customers a flexible value-added service.



Avacta Analytical is an ISO 9001 2008 registered company.



© 2014 kdm communications limited

More from Machinery & Machining Tools