Vision and Imaging Sensors / Detectors
Analog WDR InGaAs Imaging Sensor supports QVGA resolution.
Press Release Summary: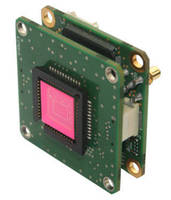 Offering spectral response range of 900–1,700 nm, NSC1401 features ROIC with 320 x 256 pixels at 25 µm pitch coupled to InGaAs retina that operates in WDR (Wide Dynamic Range) mode and global shutter. This analog front end achieve a minimal input noise and offers response times down to 200 nsec. Operating in linear integration and log response modes, SWIR QVGA sensor runs up to 300 fps full frame and brings full digital control of image parameters.
---
Original Press Release:

NSC1401, the New Wide Dynamic Range InGaAs Imaging Sensor from NIT...



New Imaging Technologies introduce the NSC1401 a new analog Wide Dynamic Range InGaAs sensor series in 320x256 pixels (QVGA).



The NSC1401 use a new generation of ROIC with a 320x256 pixels at 25um pitch coupled to an InGaAs retina that operates in WDR mode and global shutter. The spectral response range from 900nm to 1700nm. The analog front end is designed to achieve extremely low input noise and ultra-fast response time down to 200ns for applications such as active imaging. The sensor operates both in linear integration mode and in log response.



This latest SWIR QVGA sensor running up to 300 fps full frame brings also full digital control of image parameters such as software selectable regions of interest (ROI), selectable integration modes (IWR & ITR).



The NSC1401 can operate without TEC within an ambient temperature range from -40°C to 70°C. A TEC version will also soon be available from NIT for applications that require a very stable radiometric signal output, such as thermography or laser beam characterization.



The NSC1401 is available for sale in camera (WiDy SWIR compact series), as module which include a complete driving electronic or as a packaged sensor.



New Imaging Technologies is a French company pioneer in Wide Dynamic Range solutions. With over 15 years of academic research and our patented MAGIC™ pixel technology, we master all the steps from the sensor design to complete camera engineering. Our core team clusters experienced CMOS designers, all recognized as experts in their fields, with a multi- disciplinary group of optical, mechanical and electronic engineers.



With sales partners in over 20 countries we address most efficiently any customer requests around the globe. NIT offers a complete portfolio of cameras and detectors embracing Visible, Intensified (I-CMOS) and SWIR technology. NIT serves various markets such as machine vision, instrumentation, night vision, biometrics…



NIT also proposes flexible solutions and custom designs to best fit your specific requirements.



For further details, please contact NIT by phone to +33 (0)1 64 47 88 58

or email to info@new-imaging-technologies.com



More on NIT's Native WDR products

NIT will be exhibitor on the forthcoming DCS 2016 on booth#302

More from Packaging Products & Equipment