Analog-to-Digital Converter enables wideband sampling.
Press Release Summary: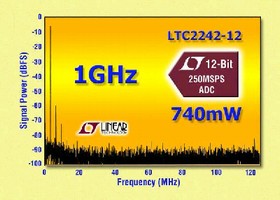 Offering 1.2 GHz analog input bandwidth, 12-bit, 250 Msps Model LTC2242-12 operates on 2.5 V supply and consumes just 740 mW. It can be driven with analog input range of 2 Vp-p to enable SNR performance of 65.1 dB at 240 MHz input frequency, with SFDR of 74 dB. Housed in 64-pin, 9 x 9 mm QFN package, converter provides flexibility to select between LVDS, full-rate CMOS, or demultiplexed CMOS outputs for interface to DDCs.
---
Original Press Release:

12-bit 250Msps Low Power ADC Provides 1.2GHz Input Bandwidth for Wideband Sampling Applications



MILPITAS, CA - March 8, 2006 - Linear Technology Corporation announces the
LTC2242-12, a 12-bit 250Msps high IF sampling analog to digital converter (ADC) that offers a 1.2GHz analog input bandwidth along with the lowest power consumption in its class. Operating on a 2.5V supply, the LTC2242-12 consumes just 740mW, even lower than its nearest competitor, operating on a 1.8V analog supply. Along with improved power efficiency, the low power dissipation reduces time and costs spent on thermal design considerations and helps improve long term product reliability. The LTC2242-12 can be driven with an analog input range of 2Vp-p to enable excellent SNR performance of 65.1dB at 240MHz input frequency, with SFDR of 74dB.

The LTC2242-12 is part of a pin-compatible family of 10- and 12-bit ADCs, sampling at 170Msps, 210Msps and 250Msps. It is pin-compatible with the existing 3.3V LTC2220 family, offering an upgrade path to higher sampling rates with considerably lower power dissipation. These parts provide the flexibility to select between LVDS, full-rate CMOS or demultiplexed CMOS outputs for easy interface to DDCs. The digital output supply can be powered from 0.5V-2.6V, allowing direct connection to low voltage digital interfaces.

The LTC2242-12 low power family is available in a small 9mm x 9mm QFN package, and includes integrated bypass capacitance that further reduces the overall solution size.
The LTC2242-12 family is supported with LVDS demo boards for quick device evaluation and can be purchased online. Samples and demo boards for the LTC2242-12 family are available today, with production to start in May. Available in both commercial and industrial temperature grades, they are competitively priced at $59 each in 1,000-piece quantities.

The following table provides an overview of the entire 2.5V LTC2242 product family. All parts can be ordered in optional lead-free packages for RoHS compliance. A table of the entire Low Power High Speed ADC product family can be found at www.linear.com/designtools/hsadcs.jsp


Part Number	Resolution	Speed	   Vdd	   Power/Ch.	Availability	Price (1k)

LTC2242-12	12-bit	       250Msps	   2.5V	    740mW	    May	        $59.00

LTC2241-12	12-bit	       210Msps	   2.5V	    585mW	    May	        $42.00

LTC2240-12	12-bit	       170Msps	   2.5V	    445mW	    May	        $35.00

LTC2242-10	10-bit	       250Msps	   2.5V	    740mW	    June	$39.00

LTC2241-10	10-bit	       210Msps	   2.5V     585mW	    June	$32.00

LTC2240-10	10-bit	       170Msps	   2.5V	    445mW	    June	$25.00

Photo Caption: High IF Sampling ADC-1GHz FFT

Summary of Features: LTC2242 Family
o Sample Rate: 250Msps, 210Msps & 170Msps
o 12-Bit, 10-Bit Resolutions
o Low Power: 740mW/ 585mW/ 445mW
o High IF Sampling above 500MHz
o Wide Analog Input Bandwidth of 1.2GHz
o Single 2.5V Supply
o Flexible 1Vp-p or 2Vp-p Selectable Input
o LVDS/CMOS and De-Multiplexed CMOS Outputs
o Optional Clock Duty Cycle Stabilizer
o 64-Pin, 9mm x 9mm QFN Package

Company Background
Linear Technology Corporation, a manufacturer of high performance linear integrated circuits, was founded in 1981, became a public company in 1986 and joined the S&P 500 index of major public companies in 2000. Linear Technology products include high performance amplifiers, comparators, voltage references, monolithic filters, linear regulators, DC-DC converters, battery chargers, data converters, communications interface circuits, RF signal conditioning circuits, and many other analog functions. Applications for Linear Technology's high performance circuits include telecommunications, cellular telephones, networking products such as optical switches, notebook and desktop computers, computer peripherals, video/multimedia, industrial instrumentation, security monitoring devices, high-end consumer products such as digital cameras and MP3 players, complex medical devices, automotive electronics, factory automation, process control, and military and space systems. For more information, visit www.linear.com

Contact:
Doug Dickinson, Media Relations Manager
Linear Technology Corporation
1630 McCarthy Boulevard
Milpitas, CA 95035-7417
ddickinson@linear.com
408-432-1900

More from Architectural & Civil Engineering Products