Analog Panel Meters measure 1.54 x 2.95 in.
Press Release Summary: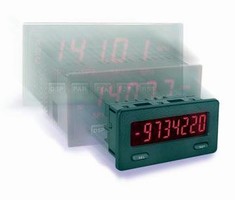 Offering 0.46 in. digits and user-selectable bright red or green LED backlighting, CUB5 Series operate on 10-28 Vdc power supply. CUB5ID dc current meter offers 4 current ranges and maximum input of 199.99 mA, while CUB5VD dc volt meter has 4 V ranges and maximum input of 199.99 Vdc. CUB5P process meter accepts processing signals and displays them in desired display readout, and CUB5RT and CUB5TC accept inputs from RTD and thermocouple sensors, respectively.
---
Original Press Release:

Red Lion CUB5 Series Analog Panel Meters Offer a 30% Smaller Footprint and Extraordinary Value and Versatility.



YORK, PA-October 11, 2006-Red Lion Controls, Inc. has announced its CUB5 Series Analog Panel Meters that increase user versatility in a footprint that is 30% smaller than 1/8 DIN meters and nearly half the cost. Multiple models are available to meet a variety of unique industrial applications, for example, measuring DC current and voltage, processing signals from flow meters, pressure sensors and positioning sensors, and accepting inputs from RTD and Thermocouple sensors.

"At Red Lion we strive to develop high-quality panel meters that will be the next industry standard," said Jeff Thornton, product manager for Red Lion. "The CUB5 Series Analog Panel Meters offer users ultimate versatility with their compact, modular design and offering of intelligent, easily programmable features."

Red Lion offers a variety of analog models including, the CUB5ID DC
Current Meter that offers 4 current ranges and a maximum input of 199.99 mA and the CUB5VD DC Volt Meter that offers 4 volt ranges and a maximum input of 199.99 VDC. The CUB5P Process Meter accepts processing signals and displays them in the desired display readout. The CUB5RT and CUB5TC accept inputs from RTD sensors and Thermocouple sensors, respectively.

All CUB5 models offer 0.46 inch digits and user-selectable bright red or green LED backlighting, and can be programmed to display color change at preset. Convenient front panel programming is another significant advantage over comparable panel meters.

Users may choose to incorporate optional modules to further enhance CUB5 capabilities. A relay module featuring a Form C relay capable of switching up to 1 amp and a dual NPN-OC transistor module are available for adding output capabilities. Both can be programmed to change backlight display color when a setpoint is reached-providing machine operators with a quick visual indication. A communications module is also available in RS232 and RS485 formats and provides serial ASCII communications for sending and receiving data through the meter.

CUB5 models may be easily programmed with the front panel buttons or with Red Lion's free Crimson 2.0 software featuring drag-and-drop data mapping, display, control and data logging tools as well as a library of downloadable device drivers that quickly establish communication between the CUB5 and virtually any device. Users can easily store data for later retrieval and program multiple units simultaneously.

CUB5 Panel Meter dimensions are 1.54" x 2.95" (39 x 77mm). They feature a NEMA 4X/IP65 sealed front bezel and operate on a 10-28 VDC power supply.

The CUB5 can also be powered with an optional Red Lion model MLPS1 power supply that attaches directly to the back of the unit. The MLPS1 is powered from 85 to 250VAC and provides up to 400mA to drive the unit and any attached sensors.

Combine this capability to the already released Counter/Rate Meter and Timer, and you have what will become the next generation of panel meters.

Red Lion Controls, Inc. is a leading manufacturer of industrial control solutions worldwide. Products include digital/analog control, monitoring and panel meters, PID control, human-machine interface panels, and signal conditioning. For more information, or to find the Red Lion distributor nearest you, go to www.redlion.net, or call 717-767-6511.

To unsubscribe/change profile: click here

To subscribe: click here

Our address: 10249 Yellow Circle Drive
Minnetonka, Minnesota 55343

Related