Analog Output Universal PCI Card has high-density design.
Press Release Summary: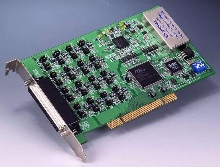 Featuring 32 analog output channels, 14-bit PCI-1724U has universal PCI connector that is compatible with 5 and 3.3 V signaling. Various DLL drivers enable software-based I/O functions, and unit is designed for synchronized output, which eliminates existence of any time delay in system. When system is hot reset, unit can still keep its output values. Unit features isolation up to 1,500 V and output range of -10 to +10 V at 0-20 and 4-20 mA.
---
Original Press Release:

Advantech Releases14-bit, High-Density Analog Output Universal PCI Card


PCI-1724U offers higher density than most other output cards, offering cost-effective option for applications with many analog channels

Cincinnati, Ohio (February 14, 2005) - With 32 analog output channels, the new PCI-1724U from Advantech Corporation, Industrial Automation Group has higher density than most analog output cards in the market and therefore represents a cost-effective option for applications with many analog channels. It is designed with a universal PCI connector, compatible with both 5V and 3.3 signaling. This function enables the PCI-1724U to be applied with either 5V or 3.3V signaling for different system integrations.

Furthermore, isolation up to 1,500 V ensures that the card can be used in a rugged environment such as those common in industrial control systems. Driver support is provided with a wide range of DLL drivers that enable complex software-based I/O functions.

Flexible output range of -10 ~ +10V, at 0~20mA, and 4~20mA makes PCI-1724U suitable for versatile use. Some examples include: V-command motion control, multiple loop PID control, servo control, programmable voltage source or current sink, and process control.

The PCI-1724U is designed for synchronized output, which ensures that no time delay exists in your system. This is necessary in some applications such as dual-systems or system applications with many devices running in parallel.

When the system is hot reset (power is not shut off), PCI-1724U can still keep its output values. This practical function eliminates dangers caused by unexpected system resets.

PCI-1724U has BoardID design. BoardID switch takes Plug & Play to the next level. While Plug & Play makes installation easier when you install a PCI card in your PC, Plug & Play cannot deal with two identical cards in the same PC. The PC is simply unable to differentiate the two cards. The BoardID switch gives each card a unique identifier so that the cards can be recognized as different cards by software. There is no need to open the chassis.

This product is available for purchase directly from the manufacturer at eAutomationPro.com and from Advantech's network of North American distributors. For more information or to locate an Advantech distributor, visit eAutomationPro.com.

Advantech Corporation, Industrial Automation Group - Founded in 1983, the Industrial Automation Group of Advantech Corporation is the only complete PC-based Industrial Automation Solution Manufacturer offering products such as Industrial PCs, Workstations, Panel PCs, Flat Panel Monitors, Heavy Environmental PCs, Customized PCs, Single Board Computers, Data Acquisition & Control Devices and Web-enabled products for a wide array of industries. Drawing on the talents of more than 1,800 people, Advantech operates an extensive sales and marketing network in 16 countries and 35 major cities to deliver fast time-to-market services to our worldwide customers. Today Advantech offers over 700 products and solutions, adding 30 new products each year. US operations for the Industrial Automation Group are based in Cincinnati, OH (877-294-8989). Address: 1320 Kemper Meadow Drive, Suite 500, Cincinnati, Ohio 45240.

Web: eAutomationPro.com. Email: info@eAutomationPro.com

Brandon Rhoten
Advantech Corporation, Industrial Automation Group
phone: (513) 742-8895 x333
fax: (513) 742-0554
web: eAutomationPro.com

More from Software