Analog LCD Modules suit automotive applications.
Press Release Summary: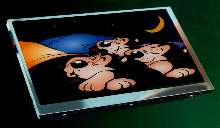 Daylight readable Series T-51440, 7.0 in. diagonal thin film transistor modules offer 480x240 pixels in 16:9 format. Anti-glare, low reflection surface treatment provides brightness of 400 nits. Featuring 264,144 colors, units have 150:1 contrast ratio and operating temperature of -30 to +85°C. Additional offerings include integrated NTSC/PAL decoder and inverter with dimming circuit that provides 100:1 dimming ratio.
---
Original Press Release:

Optrex America Introduces New 7.0-Inch Diagonal TFT LCD's for Navigation and Entertainment Applications


Plymouth, MI, December 2002 - New 7.0-inch diagonal TFT (thin film transistor) analog LCD modules from Optrex America, Inc. provide superior readability and performance characteristics for automotive applications requiring high-quality, high-resolution display of in-motion video. The T-51440 Series modules are helping to shape the future of automotive interior "infotainment" displays such as in-car TVs and GPS-based navigation systems, as well as portable DVDs and other multimedia and audio/visual applications.

T-51440 modules feature 480x240 pixels in a wide 16:9 format. AGLR (anti-glare, low reflection) surface treatment enables them to provide an exceptional brightness of 400 nits (cd/m²). They display 264,144 colors, have 150:1 contrast ratio, and provide a wide operating temperature range (-30°C to +85°C). Additional features include integrate NTSC/PAL decoder, as well as integrated inverter with dimming circuit providing a 100:1 dimming ratio.

In addition to high brightness, high contrast, wide viewing angles and excellent daylight readability, these slim, compact, active matrix modules provide outstanding resistance to vibration and shock (to 100 Gs) so they can be designed into even the most environmentally demanding automotive applications.

"LCDs are becoming a more and more popular option for automotive display designers," said Stefan Lenz, Manager of Optrex America's Automotive Business Unit. "We expect these 7.0-inch LCDs to make a significant impact in the U.S. market for automotive infotainment displays, an area in which Optrex has been very active and innovative."

Pricing for the 7.0-inch diagonal T-51440 Series modules is $282 each in sample quantities for the Total Solution version (which includes LCD panel and inverter and decoder circuits). For additional details, contact Optrex America, Inc.

For more information, contact Holly Konrad, Optrex America, Inc., 46723 Five Mile Road, Plymouth, MI 48170. Tel: 734-416-8500; Fax: 734-416-8520; Email: lcdinfo@optrexusa.com Web: www.optrex.com.

Founded in 1976, Optrex has followed an aggressive policy of growth and expansion and now serves customers through an extensive in-field network of applications engineers and more than 100 sales and distribution offices throughout the world. The Optrex technology palette includes Active-MLA (multi-line addressing), TFT (thin film transistor), VHC (very high contrast), STN (super twisted nematic), HPC (high performance color) for car audio applications, TFCC (trim fine crystal color) for color mobile products, and OLED (organic light emitting diode).


More from Communication Systems & Equipment