Analog Hot Plates and Stirrers offer 5 or 9 positions.
Press Release Summary: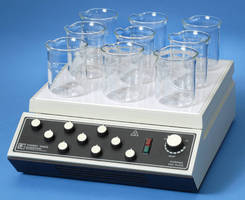 While 5-position ST15 Stirrer and HS15 Stirring Hot Plate can stir five 800 ml beakers, 9-position ST19 Stirrer and HS19 Stirring Hot Plate can stir nine 500 ml beakers of aqueous solutions. Each stirring position is individually controlled, so different vessels can be stirred at different speeds from 100–1,500 rpm at same time on one plate surface. Supporting 50+ lb on plate surface, 19 x 12.5 x 5.25 in. units feature 12 in. square ceramic heater tops that can reach temperatures to 450°C.
---
Original Press Release:

NEW Analog Hot Plates & Stirrers Features 5 or 9 Stirring Positions



Carlsbad , CA …Torrey Pines Scientific, Inc®. announces its new line of multi-position analog stirring hot plates and stirrers featuring 5 or 9 stirring positions.



The large 12" (305 mm) square ceramic heater tops have a temperature range to 450°C.  The 5-position stirring units can stir 5-800ml beakers, and the 9-position units can stir 9-500ml beakers of aqueous solutions from 100 to 1500 rpm.  Each stirring position is individually controlled so different vessels can be stirred at different speeds at the same time on one plate surface.



Image removed by sender.

The Models ST15 Stirrer and the HS15 Stirring Hot Plate can stir 5 vessels.  The ST19 Stirrer and HS19 Stirring Hot Plate can stir 9 vessels.  The units measure 19" (432 mm) deep by 12.5" (318 mm) wide by 5.25" (134 mm) tall. They can support more than 50 pounds (22.6kg) on the plate surface.  All controls are mounted well in front of the heater surface to protect against accidental burns, and the units are designed to keep spills out of the chassis.



The units are available in 115VAC/60Hz, 220VAC/60Hz, and 230VAC/50Hz.  They have a main AC on/off switch and are fused for safety. They are supplied with user's manual and detachable line cord for the country of use.   All units are UL, CSA and CE or equivalent rated.



To obtain additional information contact:



Torrey Pines Scientific, Inc.®

2713 Loker Avenue West

Carlsbad, CA 92010 USA

Phone: 760-930-9400

Toll Free: 866-573-9104

Fax: 760-930-9480



E-mail:info@torreypinesscientific.com

or visit our Web site: http://www.torreypinesscientific.com/.



Client Contact:

Tony Cassiano - email: tonyc@torreypinesscientific.com

More from Laboratory and Research Supplies and Equipment