Analog Front End Sensor detects road hazards.
Press Release Summary: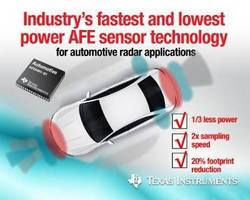 Designed for automotive radar applications, 4-channel Model AFE5401-Q1 provides 25 MSPS/channel sampling speed, enabling quick position and speed discrimination of fast moving scenes. Device monitors 4 channels simultaneously to determine exact direction of incoming radar signal. This allows radar system to make smart decisions about where object is located, if it is moving, and how soon response needs to occur. Supplied in 9 x 9 mm 64-pin QFN package, sensor consumes just 65 mW/channel.
---
Original Press Release:

Detect Road Hazards with TI's AFE Sensor Technology for Automotive Radar Applications



Quad-channel analog front end doubles sampling speed and reduces power more than 30 percent over the competition



DALLAS -- Texas Instruments (TI) (NASDAQ: TXN) today introduced the industry's fastest and lowest power baseband receiver analog front end (AFE) for ADAS applications.  The 4-channel AFE5401-Q1 is designed for the next generation of automotive radar applications where space constraints and increasing radar performance are driving a need for greater bandwidth, high integration and low power.



Delivering twice the sampling rate and bandwidth spectrum of existing solutions, the AFE5401-Q1 enables quick position and speed discrimination of even the fastest moving scenes. It also requires 30 percent less power and 20 percent less board space enabling a small device for optimal in-car installation.  For more information on AFE5401-Q1, visit www.ti.com/afe5401-pr.



Features and benefits of AFE5401-Q1:



--  Intelligent detection: 4 separate channels are simultaneously monitored by the device to determine the exact direction of the incoming radar signal. This allows the automotive radar system to make smart decisions about where an object is located, if it is moving and how soon a response needs to occur.

--  Best-in-class position and speed discrimination: 25-MSPS-per-channel sampling speed enables automotive radar designers to implement industry-leading position and speed detection of fast-moving targets.

--  Low power, higher performance: At only 65 mW per channel, the AFE5401-Q1 provides the lowest power per receive channel and enables more radar receive channels per system without increasing power budget.

--  Smaller size: 20 percent reduction in package size, compared to competing devices, plus a seamless interface to digital signal processors can result in a smaller total system form factor.



Tools and support

The AFE5401-Q1 evaluation module (EVM) is available today for a suggested retail price of US$599. It comes with an EVM user guide and IBIS model that enables designers to evaluate AFE5401-Q1 system performance.



Support is available on the Imaging AFEs forum or the Automotive Forum in the TI E2E(TM) Community, where engineers can search for solutions, get help, share knowledge and solve problems with fellow engineers and TI experts.



Complementary system solutions                                                                              

Engineers can develop a robust automotive radar system by combining the AFE5401-Q1 with TI's C2000(TM) and TMS570 MCUs, TDAx ADAS SoC processors, power solutions and sensor interfaces.



Pricing and availability

The AFE5401-Q1 is available in an industry-standard 9 mm by 9 mm, 64-pin QFN at a suggested retail price of US$18.00 in 1,000-unit quantities.



Learn more about TI's AFE5401-Q1 by visiting the links below:

--  Order AFE5401-Q1 samples.

--  Download the AFE5401-Q1 data sheet.

--  See a video demonstration of AFE5401-Q1.

--  Check out our ADAS blog post on TI's Behind the Wheel.



Texas Instruments drives automotive innovation

TI's state-of-the-art semiconductor products allow manufacturers and system suppliers to deliver world-class features to the automotive market. Our extensive automotive portfolio includes analog power management, interface and signal chain solutions, along with DLP(®) displays, ADAS and infotainment processors, Hercules(TM) TMS570 safety microcontrollers and wireless connectivity solutions. TI offers SafeTI(TM) parts designed to facilitate OEMs' compliance with the requirements of ISO 26262, as well as parts specifically designated as compliant with the AEC-Q100 and TS16949 standards, all with excellent product documentation. Visit TI's Automotive page or TI's E2E(TM) Behind the Wheel Blog to learn more about our commitment to automotive innovation.



About Texas Instruments

Texas Instruments Incorporated (TI) is a global semiconductor design and manufacturing company that develops analog ICs and embedded processors. By employing the world's brightest minds, TI creates innovations that shape the future of technology. TI is helping more than 100,000 customers transform the future, today. Learn more at www.ti.com.



Trademarks

TI E2E is a trademark of Texas Instruments. All other trademarks and registered trademarks belong to their respective owners.



CONTACT:

Kateri Gemperle

Texas Instruments

214-567-3617

kateri@ti.com



More from Computer Hardware & Peripherals