Analog Frame Grabber interfaces with variety of cameras.
Press Release Summary: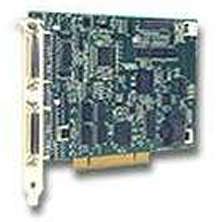 PC2-Vision, for 32-bit PCI bus, incorporates trigger-to-image acquisition control on 1 board under 1 API. Offered with 6 camera connections, unit support simultaneous acquisition from up to 6 monochrome or 2 RGB cameras. Features include single slot interface to all cameras and RS-232 serial port on each of its 2 camera connectors. Product's 40 MHz, triple-channel, 8-bit, analog-to-digital converter offers gain and offset controls to match video voltage level of camera.
---
Original Press Release:

Coreco Imaging Introduces PC2-Vision Frame Grabber


High-performance analog board for the 32-bit PCI bus interfaces to variety of cameras, provides highest assurance of "trigger to image reliability"

Montreal, Quebec (January 14, 2003) - Coreco Imaging, a leading developer of high-performance machine vision products, today introduced the PC2-Vision, a new analog frame grabber for the 32-bit PCI bus. The first product in the company's new PC2-Series, the PC2-Vision offers the most flexible and programmable acquisition of any product in its class.

"The drive for productivity gains is leading to faster manufacturing, which, in turn, is leading to increased use of higher resolution, progressive scan cameras. Machine vision applications require tight integration between the trigger, strobe, camera exposure and frame grabber acquisition to ensure data integrity in high-speed, in-line inspections," said Philip Colet, Vice-President of Sales & Marketing for Coreco Imaging. "With 'trigger-to-image' acquisition control incorporated on a single board and under a single API, the PC2-Vision offers machine vision OEMs and system integrators the highest performance and most cost-effective analog machine vision camera interface on the market."

Highly versatile, high-speed camera interfacing
The PC2-Vision's acquisition circuitry interfaces with a wide assortment of industrial cameras, including standard (RS-170 and CCIR), non-standard (progressive scan), RGB monochrome and dual-channel analog cameras. Its six camera connections support simultaneous acquisition from up to six monochrome or two RGB cameras, making related images available at the same time and increasing speed and application flexibility. The PC2-Vision's single slot interface to all cameras and fast sequential image captures increase reliability, lower systems costs and simplify development. In addition, the board features an RS-232 serial port on each of its two camera connectors (MDR-36 by 3M(TM)) to simplify camera configuration.

Simultaneous acquisitions are also supported through a frame delay mode, which allows concurrent captures from all six inputs. The PC2-Vision's 40 MHz triple-channel, eight-bit analog-to-digital converter offers gain and offset controls to precisely match the video voltage level of the camera. The PC2-Vision simplifies camera interfacing by offering fully programmable timing coupled with efficient cabling and a variety of trigger, strobe and asynchronous reset options.

With 40 MHz input bandwidth and the ability to accommodate faster cameras, the PC2-Vision outpaces other frame grabbers in its class, allowing developers to increase the performance of their systems.

Reliable data transfer
The PC2-Vision frame grabber is 5V and 3.3V PCI compliant, supporting the widest range of personal computer PCI buses. The board's hardware scatter/gather engine requires minimal CPU involvement, enabling faster data transfer, either to host memory or to a display. Images are transferred to system memory in either packed or planar mode. The combination of packed and planar transfers provides maximum flexibility when implementing image-processing functionality in the machine vision system.

Software Support
All PC2-Vision applications are created using Coreco Imaging's Imaging Foundation Class(TM) (IFC). This powerful library allows optimal control of frame grabber resources and greatly simplifies software development. To shorten set-up time, IFC includes Camera Configurator, a Windows® point-and-click utility for set-up of all camera and interface board parameters. The PC2-Vision is integrated with Coreco Imaging's MVTools, Sherlock and WiT(TM). Coreco Imaging's software development tools allow users to develop applications with C DLLs, C++ classes, Microsoft® Visual C/C++ 6.0 (or higher) or Visual Basic® 6.0 (or higher) development platforms.

Applications
With six inputs and a high digitization rate, the PC2-Vision is ideal for inspection, identification and gauging applications in a range of industries, including semiconductor and electronic manufacturing, food, beverage and pharmaceutical packaging, security and medical. The board's RGB acquisition capability makes it particularly well suited to automated optical inspection (AOI) and object classification.

The PC2-Vision is available immediately. For OEM pricing discounts, please contact Coreco Imaging.

About Coreco Imaging
Coreco Imaging is a leader in the design and manufacturing of hardware and software for high-performance computer vision applications, primarily in the medical imaging, machine vision and industrial inspection markets. The company employs approximately 135 people and has operations in Montreal (QC), Vancouver (BC) and Billerica (MA), with additional sales offices in Cleveland (OH) and San Juan Capistrano (CA). Founded in 1979, Coreco Imaging's success is driven by sound financial management combined with its commitment to the research and development of value-added products to serve the evolving needs of the computer vision market. A publicly traded company, Coreco Imaging is listed on the Toronto Stock Exchange (TSX) under the symbol CRC.

Address:
6969 Trans Canada Highway, Suite 142
St. Laurent, Quebec H4T 1V8
Canada
Tel +1 514-333-1301
Fax +1 514-333-1388
info@corecoimaging.com
http://www.imaging.com

Media Contacts:
Kumi Verma
Marketing Communications Manager, Intl.
Tel: +1-514-333-1301
e-mail: kverma@corecoimaging.com

Christina Lewis
Media Relations Specialist
Tel: +1-617-227-8090
e-mail: christinalewis12@attbi.com

More from Mechanical Components and Assemblies