An ABB Industrial Robot Provides Automated Luggage Storage and Retrieval at New Yotel in Manhattan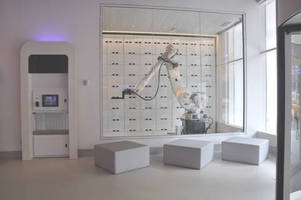 AUBURN HILLS, Mich. - An ABB articulated arm industrial robot serving as an automated luggage storage and retrieval system is one of the unique features of the new Yotel that opened in June at Times Square West in Manhattan. The new Yotel, the brand's first location outside of its three airport hotels in London and Amsterdam, is part of "MIMA", a mixed-use development located at 570 Tenth Avenue, between 41st and 42nd streets. The theatrically-lit robot, appropriately named "YOBOT", is the central feature in the lobby, housed behind a secure glass enclosure where it picks up and stores guests' luggage in one of 117 lockers. When guests are ready to leave the city they return with their bar-coded receipt for the YOBOT to retrieve their bags.

The system, the only one of its kind in the world, is the vision of Yotel CEO Gerard Greene. In addition to the YOBOT other high-tech features of the new Yotel include fully automated guest check-in and check-out at airline style self-service kiosks; and in Dohyo, the hotel's restaurant, hydraulic tables lower into the floor to create a performance area. With 669 rooms (known as "cabins") the new Yotel is the largest hotel opening in New York in 2011.

The YOBOT system was designed and installed by MFG Automation of Ashford, CT, an established ABB system integrator primarily serving industrial customers in the food and beverage, plastics, aerospace and general manufacturing sectors. The Yotel group found MFG through an internet search and after an initial consultation MFG owner John Phelps came back with a RobotStudio animated rendering of the proposed system and a vow that, though it was an unusual application for an industrial robot, he could make it work!

YOBOT is an ABB IRB 6640 robot that would typically be found in industrial settings performing such tasks as material handling, machine tending or spot welding. It is mounted on a 5 meter floor track were it moves from the luggage handoff opening to the base of the storage lockers, which are stacked nearly to the limit of the 14 ft ceiling against two walls within the enclosed area. The main wall contains 72 lockers for larger bags, and 15 lockers for smaller bags like laptop cases, purses, etc. A smaller wall positioned 90° to the main wall houses an additional 30 smaller lockers.

The IRB 6640 was selected because its 3 meter reach was necessary to access all 117 lockers from the track, and its 60kg payload capacity would agilely handle the heaviest bags. Guests enter a user name and PIN on an interactive, flat-panel touch screen, and place their bags on a locker insert bin presented by the YOBOT via a fork-like attachment at the end of the robot arm. From there the YOBOT inserts the bin into a dedicated locker slot and a bar code receipt is issued to the guest for the subsequent bag retrieval. The YOBOT can complete a storage or retrieval operation in 30 seconds or less.

According to Phelps one of the biggest challenges to the project was programming the robot within the parameters of the confined storage enclosure. "It was very much like a robot in a bottle," said Phelps. "In order to reach all lockers the robot had to articulate in a certain manner depending on the locker location, very often with only 1½" clearance to the glass and the surrounding walls. Plus the project evolved over time and the configuration of the lockers was somewhat fluid until the near the end."

The system was also carefully designed so that the input controls provided the necessary security while providing an intuitive interface for the new user who has never experienced such a system. Phelps added, "Another challenge was catering to the ultimate user. The touch screen menu system had to be simple enough for a guest to operate the system quickly and securely without any training. We carefully mixed and matched the controls accordingly. It is simple but very secure. The bar code receipt and PIN provide far greater security than standard, human operated systems. In the first few weeks we noticed that users frequently check their laptops and other valuable bags they wouldn't consider leaving in the standard, shared storage closet used by bell captains in most hotels."

ABB's RobotStudio simulation and offline programming software was integral to designing the initial system, and redesigning it as the parameters evolved. RobotStudio allows the designer to accurately locate the position of multiple points of the desired robot operation as well as the physical barriers present in the working environment, greatly simplifying the task of configuring and programming complex robotic applications. The result is the ability to create a fully simulated robotic program that can also be downloaded directly to the robotic system on the floor, fully directing the robot what moves to make in all scenarios.

"YOBOT provides secure, fully automated luggage storage 24 hours a day in a unique and entertaining way that is consistent with the Yotel experience," said Yotel spokesperson Jo Berrington. "A nod to the future and a reflection of the innovative Yotel brand, YOBOT has become a celebrity in its own right. It adds a fun element to the initial guest experience and, of course, helps to free up our crew to provide their usual professional, warm and friendly welcome."

"It took a bold vision on the part of Yotel to initiate and complete this first of its kind project," said Phelps. "They were an exceptional customer throughout the entire process."

Noted Joe Campbell, vice president of the ABB Robot Products Group in the US, "We have been enthusiastically engaged in this project since its inception and salute the creativity and expertise of both the Yotel group and MFG in making this happen in such a spectacular way. We feel it is a testament to endless range of functions that industrial robots can perform."

About YOTEL

YOTEL (www.yotel.com) was created by YO! founder Simon Woodroffe and YOTEL CEO Gerard Greene. The idea was conceived by Simon after he was upgraded to first class on a flight. Together they decided to translate the language of luxury airline travel and Japanese influence into a small but luxurious cabin and opened three in terminal airport hotels. YOTEL's first city centre location at West 42nd Street and 10th Avenue just west of Times Square welcomes you with YOBOT, the world's first robotic luggage concierge. There are 669 stylish cabins. 'Premium' cabins come with convertible beds for saving space, monsoon showers, technowall with TV and MP3/iPOD connectivity, workstation and free super strength WiFi. For the 'extra' factor there are 19 'First' cabins, some with private outdoor terraces and hot tubs and three VIP 2 cabin suites with 360 degree views, rotating king sizes beds and dining tables that convert to a billiard table!

About MFG Automation

MFG Automation (www.mfgautomation.com) specializes in the development of engineered robotic systems for manufacturing. Specializing in ABB robotic products exclusively, MFG's mission is to help keep manufacturing competitive. Centrally located in Northeast Connecticut, MFG offers both small and large turnkey systems for a multitude of industries.

About ABB

ABB (www.abb.com) is a leader in power and automation technologies that enable utility and industry customers to improve performance while lowering environmental impact. The ABB Group of companies operates in around 100 countries and employs about 130,000 people.

About ABB Robotics

ABB Robotics (www.abb.com/robotics) is a leading supplier of industrial robots - also providing robot software, peripheral equipment, modular manufacturing cells and service for tasks such as welding, handling, assembly, painting and finishing, picking, packing, palletizing and machine tending. Key markets include automotive, plastics, metal fabrication, foundry, electronics, machine tools, pharmaceutical and food and beverage industries. A strong solutions focus helps manufacturers improve productivity, product quality and worker safety. ABB has installed more than 190,000 robots worldwide.


More from Test & Measurement