Amsted Rail® Purchases AFC-Holcroft Furnace Line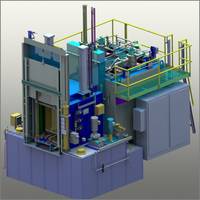 (July, 2018) Amsted Rail® , a global leader in fully integrated freight car systems for the heavy haul rail market has added a new, complete AFC-Holcroft UBH line to meet a growing need for additional heat treatment capacity. This latest purchase includes a batch style carburizing furnace, two expansion modules to increase endothermic generator gas output, a rotary hearth reheat furnace for press quenching, and a continuous integrated parts washer and temper furnace.
"The batch furnace itself has an effective load size of 72 inches by 72 inches by 56 inch with a gross load capacity of 13,000 lbs, which is considered very large for this type of equipment, but is in fact one of AFC-Holcroft's standard sizes," stated Tracy Dougherty, Sales Manager at AFC-Holcroft. "The ability and experience to provide equipment for reliable processing of such large loads is just one of the benefits that AFC-Holcroft is able to offer, and one more thing that sets us apart from our competitors."
Amsted Rail® is headquartered in Chicago, Illinois (USA), with locations spanning the globe, in every significant railroad market. The equipment is scheduled to ship to a joint venture facility located in Eastern Europe, in the third quarter of 2018.
About Amsted Rail® :
Amsted Rail® is the world's leading provider of fully integrated bogie systems for the heavy haul freight market, with facilities spanning 40 locations across 10 countries and 6 continents. Through their state-of-the-art manufacturing processes, Amsted Rail® is redefining industry standards for innovation and technology, providing customers worldwide with unmatched performance and reliability for the long haul.
About AFC-Holcroft:
Founded in 1916, AFC-Holcroft, is one of the US market leaders in the production of industrial furnace equipment for ferrous and non-ferrous metals. The company manufactures turn-key heat treating systems for applications including commercial heat treating, bearings, automotive, aerospace, mining, aluminum heat treatment, gear manufacturing, fastener manufacturing, and alternative energy industries.
Headquartered in Wixom, Michigan, AFC-Holcroft operates its own subsidiaries in China and Switzerland and has a global presence through a network of partners located in Australia, Brasil, China, India, Mexico, Poland and Spain.
About AICHELIN Holding:
The AICHELIN Group, as part of the BERNDORF Group of companies, is a manufacturer of industrial furnace equipment for different industry segments and provider of after-sale services. AICHELIN Group also operates in the field of induction heating and in the manufacturing of industrial gas burner systems. The group's production sites are located in Austria, Germany, France, Slovenia, the US, China, and India. Altogether, the AICHELIN Group has 1,100 employees worldwide and ranges among the largest producers of heat treatment plants globally.
For more information, contact [email protected]. 
For More Information: J. Ciszewski
+248-624-8191