AMLOK® Pneumatic Rod Locks Keep A-10 Warthog Steady and Protects Technicians During Refurbish/Repair OPS at HILL AFB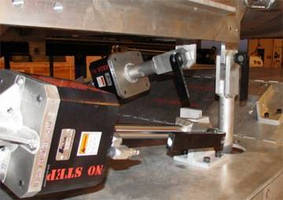 Unique rod lock assemblies from Advanced Machine Engineering built into Boeing fixtures; used to stabilize airframe, maintain structural integrity during and after major repairs



During the maintenance and repair operations of A-10 Warthog aircraft at Hill Air Force Base in Utah, a unique product design from Advanced Machine & Engineering (AME) helps maintain the structural integrity of this heavy airframe.  AMLOK® pneumatic rod locks keep the load steady and ensure the aircraft will return to flight in its proper configuration.  Boeing in St. Louis designed and built the fixtures for the Air Force and specified the rod locks, 28 on each of five (5) fixtures constructed for use at the Air Force base. 



In use, each rod lock holds up to 5,000 lbs. and maintains position with 0.002"-0.003" maximum backlash and repeatable positioning.  The AMLOK® design functions by holding the cylinder rod in place and locking the load in place, when air pressure is removed.  Only when the pressure is restored can the load be released.  This power-off clamping protects operators and workload alike.  



The Air Force contracted Boeing to produce a series of fixtures to help perform major structural repair operations on the A-10.  This was a new product design, conceived by Boeing, to solve the problem of holding the massive A-10 airframe in position while major structural sections were removed and replaced.  In application, the rod locks provide a means of attaching the main fixture to the aircraft structure without introducing any external load to the structure.  This fact is key to the overall repair operation, as the original shape of the craft must remain consistent during and after the repair.  In addition, since the locking feature on the rod lock is activated when the pneumatic power is removed, it prevents inadvertent activation of the lock during the repair process, increasing technician safety substantially. 



Another aspect of the AME rod lock design, they provide an uncomplicated, easy-to-install interface between the main repair fixture and the surface of the fuselage on the aircraft, doing so in a way that prevents the introduction of positive or negative loads to the fuselage in the resting position.  Prior to start-up of operations, laser tracking measurements of the A-10 Warthog fuselage were consistently monitored by Boeing personnel during the initial prototype repair processes.  



In operation, rod locks are positioned at seven (7) points on both sides of the fuselage along its entire length to provide adequate structural support.  These points of contact also provide convenient attachment points on the aircraft, in relation to the components typically installed.  In removing and replacing large sections of the fuselage, excess pressures can be exerted on the airframe, a potential cause of distortion. 



Jack Bucheit, the lead tool engineer at the Boeing facility in St. Louis, notes, "The size and weight of the aircraft necessitated a unique solution.  Our requirements exceeded the capacity of the standard rod locks catalogued by AME in size and weight ranges.  AME stepped up and developed, then tested and supplied a specific rod lock designed to our specifications for this application.  The performance was in line with all our expectations."  Others on the Boeing team included Jerry Dunmire, A-10 program manager, Dan Dudley, project manager and Brad Moore, tool engineer. 



The AMLOK® rod locks on these fixtures minimize the over-travel, drifting, bouncing and reverse travel often encountered in pneumatic motion applications, according to the engineers consulted for this story.  



Acting as the representative for AME on this project was Ray Varady, president of V-TEC Machine Tools, Inc. in Glen Carbon, Illinois, near St. Louis.  



Shane Hatfield, sales manager at AME, led his team in the design and delivery of the rod locks to Boeing, who subcontracted the building of the fixtures to John Wisker and his team at WB Industries of O'Fallon, Missouri, also near St. Louis.  



For more information on the repair ops referenced in this story, please contact: 



Richard Essary

Chief of Media

Hill AFB Public Affairs Office

Hill Air Force Base (Utah)

Richard.essary.3@us.af.mil



Jim Pruin

Logistics Mgt Specialist

A-10 Program Manager

A-10 Depot Support Section

Hill Air Force Base (Utah) 

James.Pruin.1@us.af.mil



For more information on the fixtures referenced in this story, please contact: 



Bradley Moore

Tool Engineering

Boeing-St. Louis

314-233-8560

Bradley.m.moore@boeing.com



For more information on the rod locks referenced in this story, please contact:



ADVANCED MACHINE & ENGINEERING

2500 Latham Street

Rockford, IL 61103

Toll-Free:  800-225-4263

Phone:  815-962-6076

Fax:  815-962-6483

Web:  www.ame.com

E-mail:  shane@ame.com

Attention:  Shane Hatfield, Sales Manager 



Kris Drennen

Advanced Machine & Engineering Co.

2500 Latham St.

Rockford, IL 61103

Phone: 815-316-5277

Fax: 815-962-6483

E-mail: info@ame.com



Advanced Machine & Engineering Co., is a manufacturer located in Rockford, Ill., serving the Machine Tool Industry with precision components and accessories, including spindle interface components, workholding devices and, through our sister company, Hennig, machine enclosures, chip removal and filtration systems.  The Fluid Power – Safety markets are served with cylinder rod locks and Safety Catcher devices; and the Production Saw market with our AmSaw carbide saw machines and Speedcut blade products.  AME has manufacturing partners and service centers around the world and across the U.S.  To learn more, visit www.ame.com.



Hennig, Inc. designs and produces custom machine protection and chip/coolant management products for state-of-the-art machine tools.  Hennig products are designed to protect against corrosion, debris and common workplace contaminants. Manufacturing facilities are located in the U.S., Germany, France, Czech Republic, Brazil, India, Japan and South Korea. Repair centers are located in Machesney Park, IL; Chandler, OK; Livonia, MI; Blue Ash, OH; Mexico City, Mexico; and Saltillo, Mexico. To learn more, visit www.hennigworldwide.com.