Global Positioning Systems (GPS)
Amerijet Airlines approves Starcom Systems GPS Tracking Devices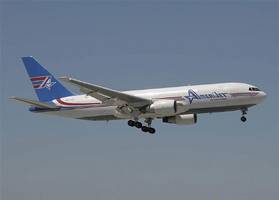 FORT LAUDERDALE, Fla., Nov. 10, 2016 - Amerijet International, Inc. announced today that it has approved Starcom Systems Kylos Air GPS Tracking Device for Air Cargo use aboard its Aircraft. Amerijet, with offices in 78 countries and moving more than 300 million pounds per year has identified the need for the latest in tracking technology to better serve its shipping clientele. Starcom Systems Americas, LLC, a fully owned subsidiary of Starcom PLC (STAR:L) designs and manufactures a variety of GPS based tracking devices that are battery operated or direct wire applications for vehicles.
"Being able to know exactly where cargo is, and being able to track or monitor it on your smartphone, desktop or via your own tracking platform is critical to the next generation of services we intend to provide," said Pamela Rollins, Senior V.P. Business Development. "Starcom Systems latest development with the Kylos Air allows for close monitoring of high value air cargo, temperature sensitive products and equipment. The units go into "Airplane Mode" while in the air, but communicate the moment they exit the aircraft, helping minimize the ramp time of sensitive cargo," stated Rollins.
Starcom Systems indicated that the Kylos Air is only the latest of developed products, which include the Tetis line of products for Ocean Containers, the Watchlock and Watchlock Pro GPS Tracking padlocks and a variety of combinations of units for specific industrial applications. Doron Kedem, COO of Starcom Systems LTD said, "Amerijet's approval sets the stage for our Americas subsidiary to participate in industries such as Pharmaceutical, High Value and Electronics, which require constant monitoring."
About Amerijet
Amerijet operates Boeing 767 and Boeing 727 aircraft from its primary hub at the Miami International Airport and regional hub in Port of Spain, Trinidad serving the Caribbean, Mexico, Central and South America with direct all-cargo flights. Amerijet's worldwide partner network provides seamless transportation solutions for customers throughout Europe, Asia, South Africa and the Middle East. The company's Miami 210,000-square-foot export and 100,000-square-foot imports air cargo handling facilities include a custom-built 10,300 square-foot (227,419 cu. ft.) perishable handling center providing refrigerated, frozen and chilled storage to maintain the cold chain integrity of pharmaceuticals and perishables during the transportation process. Advanced monitoring procedures provide real-time shipment visibility, alerts and cargo tracking.
To learn more, visit our website: www.amerijet.com
About Starcom
Starcom Systems is a global leader in the development of sophisticated, cost-effective and highly competitive telematics solutions for remote tracking and management of vehicles, containers, assets and people.
Starcom Systems has a global presence with over 100 distributors in more than 50 countries. The company has more than 50 logistics partners.
Starcom Systems is an established company – with over 15 years of experience. The company is publicly traded at the AIM market in the London Stock Exchange (STAR), conforming to the highest and most strict regulations in the market, proving its stability and reliability.
To learn more, visit our website: www.starcomsystems.com
MEDIA CONTACT:
Christine Richard,
Amerijet International
954-320-5354