American Sensor Technologies Offers Pressure Sensors with ATEX / IECEx EX d IIC Certifications for Hazardous Location Market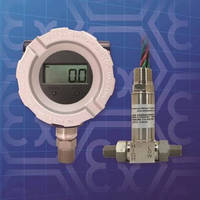 American Sensor Technologies AST46DS Explosion Proof Pressure Transducer and AST54ED Explosion Proof Differential Transformer are now certified according to ATEX and IECEx Ex d IIC flame proof requirements. The certifications qualify pressure sensors for safe operation in explosive gas and dust environments, addressing both Europe (ATEX) and international (IECEx) standards.



Each pressure sensor offers a unique solution for the hazardous location market.  Designed with a voltage output signal with extremely low current consumption, the AST46DS Explosion Proof Press Transducer allows battery-operated devices to last longer between battery maintenance or when replacement is required.  These pressure sensors offer a local display of the output signal or pressure and "zero" function to correct for any zero offsets.  The AST46DS Pressure Transducer is available with 316L or Inconel 718 for corrosive liquids or gases, such as natural gas with hydrogen sulfide.



The AST54ED Explosion Proof Differential Transformer differential pressure transducer produces an analog output signal in a compact design for explosion proof environments.  Available with line pressures up to 5,000 PSI, the AST54ED will measure differential pressure across filters or orifice plates.  In North America, pressure sensors offer a low cost solution to more expensive differential pressure transducers used in fairly basic applications including those in high pressure hydraulic systems and low pressure pneumatics for filter monitoring, flow verification, and torque calculation.



American Sensor Technologies (AST) will display both the AST46DS Explosion Proof Pressure Transducer and AST54ED Explosion Proof Differential Transformer products at the Offshore Technology Conference in the Seacon Booth (No. 3549) in Houston, TX May 4th-7th.



For more detailed information on AST's explosion proof pressure transducer solutions, visit:  http://www.astsensors.com/explosion-proof-transmitters.php.



More from Construction Equipment and Supplies