American Crane & Equipment Corporation Increases Columbus McKinnon Product Offerings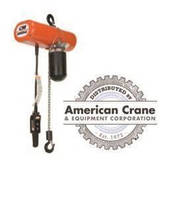 As a long time Columbus McKinnon Corporation (CMCO) channel partner, American Crane announces additions to at least 11 CMCO product lines, now available for shipment. The additional offerings are driven by the company's mission to provide a wide variety of equipment in order to meet the specific requirements of the application.



DOUGLASSVILLE, PA -



American Crane Equipment Corporation and Columbus McKinnon Corporation (CMCO), both material handling manufacturers, continue a partnership that has spanned nearly a decade. As a CMCO product distributor, American Crane now offers additional products (many that ship same day) within the following lines:



Electric Chain Hoists

CM Lodestar Electric Chain Hoists

Coffing JLC Electric Chain Hoist Hook and Lug Suspension

Hand Chain Hoists

CM Hurricane 360 Hand Chain Hoist

CM Series 646 Cyclone Hand Chain Hoist

CM Series 622 Hand Chain Hoist

CM LHH Hand Chain Hoist

Chain Lever Hoists

Coffing LSB-B Ratchet Lever Hoist

CM Series 602 and 603 Mini Ratchet Lever Hoist

CM Series 653 Lever Operated Hoist

CM Series 640 Puller Lever Hoist

CM Short Handle Puller



These products are designed to efficiently and ergonomically move, lift, position and secure material for commercial and industrial applications. CMCO's equipment is popular in the Construction, Entertainment, Food Processing, Forestry, Mining, Oil and Gas, Energy and Transportation Industries. American Crane's customers have also ordered CMCO's equipment for use in more non-traditional areas such as the art community, amusement parks and community zoos.



The American Crane & Equipment Corporation is a privately held U.S. company and a leader in overhead lifting equipment. For more than 42 years, the company has been manufacturing high quality specialty lifting equipment for unique applications.



To learn more about American Crane's equipment and services including CMCO product offerings, please send inquiries to info@americancrane.com, visit our website at http://www.AmericanCrane.com or call us at 1-877-877-6778, Ext. 224.



More from Material Handling & Storage