AME Releases RimWit Maintenance Tools for Loosening Stubborn Truck Wheels and Rims
Press Release Summary: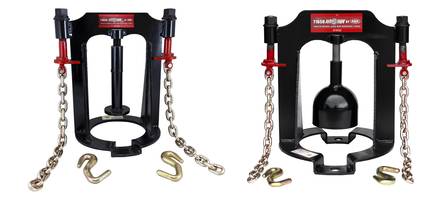 The RimWit and RimWit Junior Fleet Maintenance Tools are designed for removing locked rims on commercial truck tires without causing any damage to tire sidewalls or rims. The aluminum or steel tools are manufactured to fit all standard semi-truck rims and are used for tire demounting process. These RimWit units come with patented wheel pulling technology. They are suitable for use in shop or in the field and works with application of electric or air impact wrench.
---
Original Press Release:
AME Introduces New Seized Wheel Solution, the RimWit
Brooksville, Fla.-November 15, 2018. AME International, a leading provider of tire service tools and equipment based out of Florida, introduces two new tools for seized wheels, the RimWit and RimWit Junior. Designed to remove locked rims on commercial truck tires, the RimWit is the newest solution to loosening stubborn truck wheels and rims without fear of damaging tire sidewalls or rims.
Manufactured to fit all standard semi-truck rims, both aluminum or steel, the RimWit is designed to be a portable, efficient solution for the tire demounting process. When faced with a stuck wheel or rim, tire technicians typically resort to heavy sledge hammers, potentially causing damage to the tire and rim components. The RimWit's patented wheel pulling technology is an affordable and time-saving solution for any mobile or fleet tire service shop.
"Stuck wheels have been a problem in our industry for years," commented President Keith Jarman of AME International. "We've offered some products which address the problem, but none which are as effective or affordable as the RimWit. This product works every time, no matter the wheel or the technician."
Ideal for use in a shop or in the field, the RimWit functions with the application of an electric or air impact wrench. Available in a junior size to accommodate 19.5 truck tires, the RimWit-seized wheel solution is the easiest remedy to remove locked rims on all truck tire sizes.
To request additional information about AME International and the RimWit, email sales@ameintl.net, call (352) 799-1111 or visit www.ameintl.net.
AME International, a Brooksville, Florida based company, offers a broad range of tire changing tools and accessories including: bead breaking hydraulic rams, tire branders and spreaders, tire changer and balancer accessories, air bag lifting jacks, and tire truck accessories. The company designs and develops tire tools and accessories using the latest technology and employs expert and highly skilled professionals to ensure that only the best products and services are delivered to their customers.
Media Contact:
Brittany Yunka
(352) 799-1111
Byunka@ameintl.net
More from Architectural & Civil Engineering Products