Aluminum Alloy GMAW Wire suits trailer manufacturing industry.
Press Release Summary: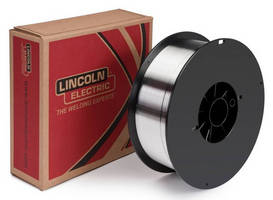 Available in standard diameters of .035, 3/64, and 1/16 in., SuperGlaze® 5356 TM™ engineered aluminum alloy GMAW wire delivers bead profile and appearance critical for groove and fillet welds. Its puddle clarity, arc action, and wetting characteristics accommodate needs of semi-automatic and automatic applications. While chemical composition gives operator optimal control, manufacturing processes provide smooth surface finish.
---
Original Press Release:

Lincoln Electric Introduces SuperGlaze® 5356 TM(TM) for the Trailer Manufacturing Industry



Cleveland – Lincoln Electric introduces SuperGlaze® 5356 TM™, an engineered aluminum alloy GMAW wire designed specifically for applications in the trailer manufacturing industry. The engineered alloy system provides optimal puddle clarity and arc action, as well as excellent wetting for both semi-automatic and high productivity automatic applications.



Key Features:

• Superior Wetting – Unparalleled bead profile and appearance are critical for groove and fillet welds.

• Enhanced Puddle Clarity and Control – Engineered chemical composition outperforms standard ER5356 electrodes, giving the operator unprecedented control.

• Maximum Arc Performance and Stability – Proprietary manufacturing processes provide a smooth surface finish, making it ideal for automatic applications on formed truck panels.



This aluminum GMAW wire offers excellent performance on high-speed groove welds in formed truck panel applications, as well as robotic fillet welds on trailer tanks, requiring minimal post-weld clean up.



SuperGlaze® 5356 TM™ is available in standard diameters of .035 in., 3/64 in., and 1/16 in. wound on 1 lb. and 20 lb. plastic spools, as well as 16 lb. steel spools.



To request a copy of Lincoln Electric's SuperGlaze® 5356 TM™ product literature, call (888) 355-3213 or visit www.lincolnelectric.com to obtain bulletin C8.05.12.



The Lincoln Electric Company, headquartered in Cleveland, Ohio, is the world leader in the design, development and manufacture of arc welding products, robotic arc welding systems, fume control systems, plasma and oxyfuel cutting equipment and has a leading global position in the brazing and soldering alloys market.



Media Contacts:



Greg Coleman – Greg_Coleman@lincolnelectric.com or 216.383.2462

Robin Suttell – rsuttell@fallscommunications.com or 216.696.0229

Related